Our Horse Camps offer 2-3 hours of horse time each day, as well as the opportunity to demonstrate the skills learned during the week in our closing Rodeo, while still giving you a chance to enjoy many of the regular activities of camp. Cool off with a refreshing dip in the pool, learn to work together as a bunkhouse on the confidence course, and be challenged spiritually by exciting Bible studies and chapels. These are great weeks to grow closer to God while enhancing your horse skills. Come join us and learn just what it means to "Ride for the Brand."
Click to see legend for riding experience (

) and level of training (

).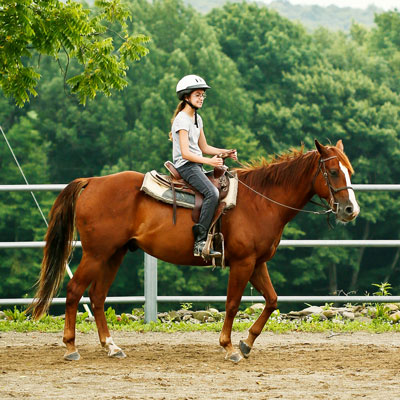 Horsemanship Camp
More time with horses! This camp is designed to give you the ability to enjoy the daily activities of our Wild West Camp, but with DAILY barn time. Barn time includes arena lessons, trail rides, and fun, educational ground classes. You can also add one or two of our Adventure Options, such as the Breakfast Trail Ride and/or the Overnighter. Join us for a full week of summer fun while we learn more about God and His love for us. (Weekly electives are not available for this camp.)
More details and registration…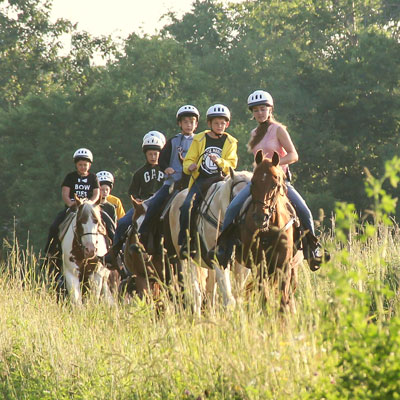 Trail Blazers
With many hours of trail riding, arena instruction, ground classes, and our unique Lunch Trail Ride, you can't go wrong with this camp! Enjoy the beautiful trails that stretch across our 600+ acre ranch. One of the days, we will pack a lunch and eat out on the trail, play some games, and then hit the trail back to Camp. Our trails provide various levels of difficulty and you may even help blaze some new ones for us! Come and take in God's amazing creation during this fun, adventure-filled week!
More details and registration…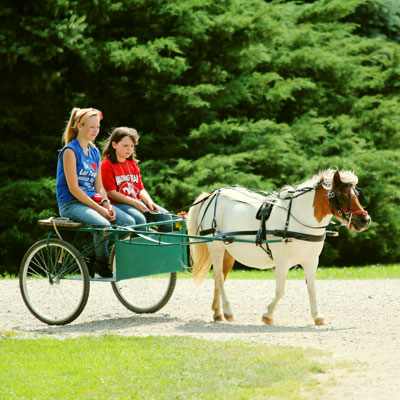 Horse Mania
Would you love to be able to experience Vaulting, Driving, trail rides, and arena lessons all in one week? In this camp, specially designed for people crazy about horses, you can do just that! You will divide your time between those activities, plus have daily ground classes, where we will teach you as much as we can about horses! This camp is for anyone who desires to learn more about one small part of God's amazing creation, the horse. Come and join us as we explore the world of horses and learn from God's Word!
More details and registration…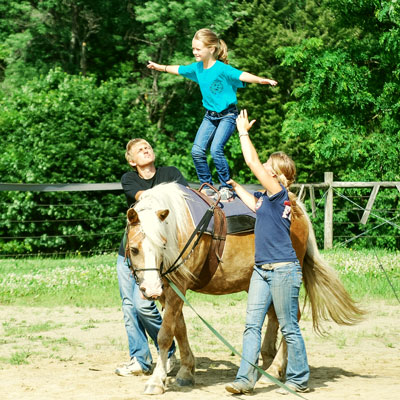 Vaulting Camp
Gymnastics on horseback is what this camp is all about! Vaulting will help develop your balance, flexibility, and confidence on a horse. You will also get to participate in fun ground classes, pony cart driving, and trail riding. Don't miss out on this unique Horse Camp!
More details and registration…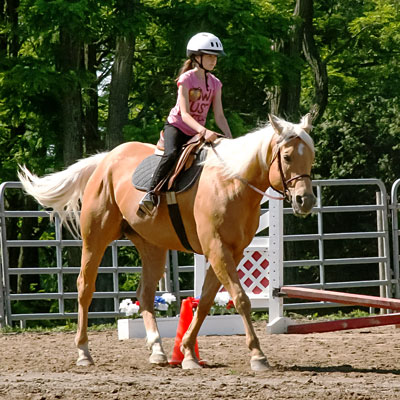 English Jump Start
If you have never ridden a horse (or English) before, this is the camp for you! Jump start is designed to give you a foundation in your position, control of the horse, and pre-jumping exercises for good hunt seat riding. Through arena instruction, time on the trail, and fun, interactive ground classes, you will hear of God's grace and love for us all!
More details and registration…

English Camp
If you are new to English riding or have been riding for years, come join us for this great week full of quality arena instruction, as well as informative and interactive ground classes. The lessons will include the fundamental basics of the rider's position and how it affects the horse, as well as the opportuntiy to better your balance and control through a course of jumps. Whether you ride recreationally or show competetively, this camp has something for everyone!
More details and registration…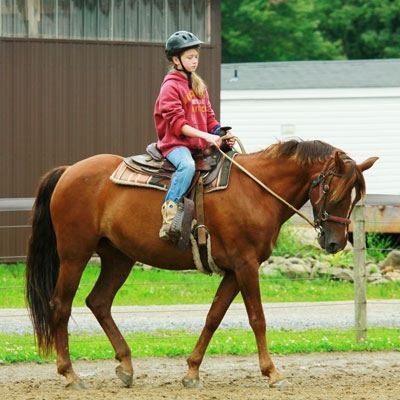 Western Riders
Sign up early for this very popular camp! We will help you improve and fine-tune your riding skills through many arena lessons, as well as time out on the trails. Some of the things covered in classes are Western riding patterns, Drill Team maneuvers, showmanship, gymkhana, and games on horses. Recreational or competetive riders, join us for this fun-filled week as we enjoy the gift of riding and learning about God's gift of grace!
More details and registration…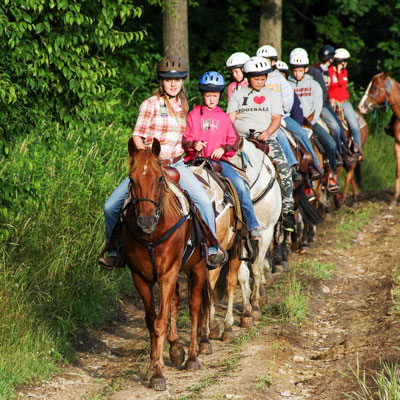 Frontier Riders
Pack your bags, pack up your horse, and camp out at our Fort Wilderness for two nights during this adventurous Horse Camp. Fire building, campfire cooking, knot tying, and some of our more difficult trails are just some of the things you will experience. This week will be full of riding, camping, the frontier, and truth from God's Word that you won't want to miss!
More details and registration…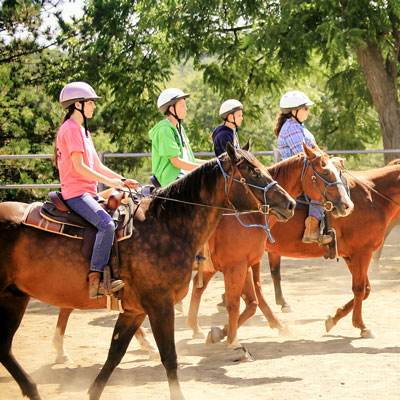 Drill Team Camp
This specialized camp is for those who want to ride in a Drill Team. During the daily lessons, you will practice riding in lines, and keeping equal spacing. You even get to help select music and design the drill you will perform in the week's closing rodeo! Bring your creativity and team spirit, and get ready for an intense, fun week of riding!
More details and registration…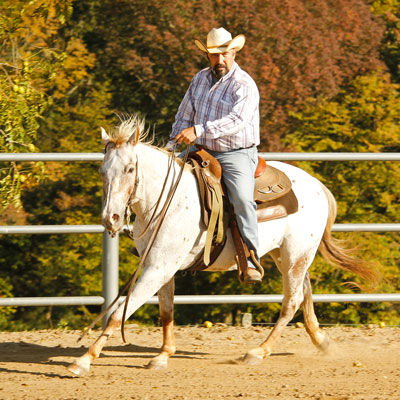 Reining Camp
During this intense* week of riding, we will introduce you to and/or help you with the maneuvers unique to Reining. Softeness, body control, and precision are important to Reining. Throughout this week of camp, we will give you the foundational tools that will help build those very things in both you and your horse. Speeding up or slowing down your circles, smoothing out your spins, and setting your horse up for a successful stop are just some of the things that will be covered in your classes. Come and experience what Reining is all about as we share with you from God's Word!
*Riders should be able to consistently lope or canter for several circles
More details and registration…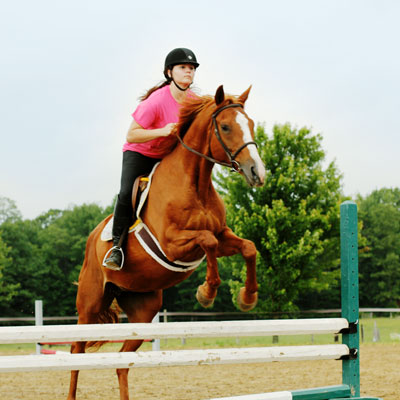 Advanced English Camp
This camp is specifically designed for those who ride in a lesson program at home, enjoy competing at horse shows, and are up for a challenging week of advanced English riding. The exercises during each lesson are designed to help fine-tune your position and communication with your horse, as well as improve your timing and athleticism over jumps. With basic Dressage work incorporated into the flat warmup to advanced jumping grids, you will hopefully take home tools that will not only help you with your horse for the week, but build you as a rider. Our goal is that you will have fun and be challenged, not just in riding, but in building godly character and what it means to glorify God in everything you do!
More details and registration…