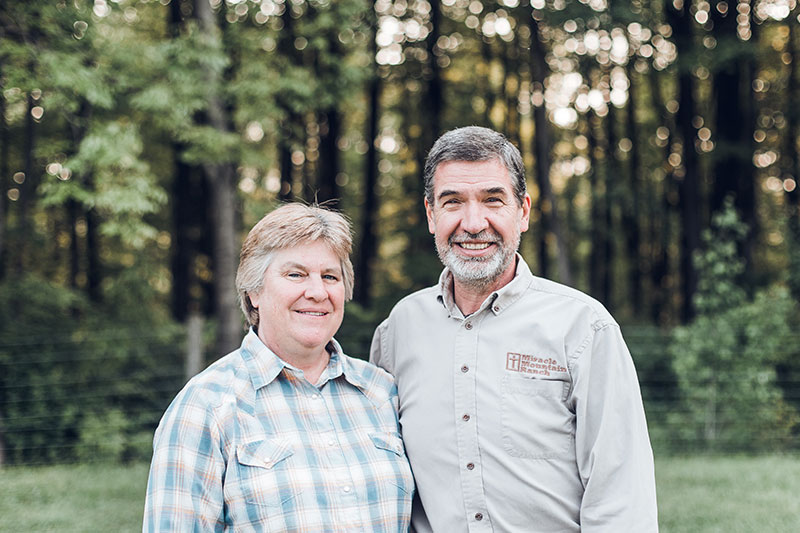 Chip and Sandy Hungerford
Chip and Sandy Hungerford came on staff in 1988. Chip serves as the Business Manager and Guest Service Director overseeing Finances, Guest Registration, and Housing. Sandy is the Buckboard Store Manager and assists in the horse program. They have six children and have served at Miracle Mountain Ranch since 1988.
News from the Hungerford's
June 2023
Dear Friends and Family
Retreats: Here it is June already! Lots has been happening both at the Ranch as well as with us. The Ranch has been very busy with retreats this spring: including a Mother/Daughter, Father/Daughter, Father/Son, and a Horse Lover's weekend. These were all well attended and presented us with many opportunities to minister to, encourage and challenge those that attended. I believe we presented a Message from the Mount for most, if not all of them. This is a fantastic way to illustrate Biblical truths in an easy to understand way through an analogy using horses, steers, dogs, or whatever else the speaker has on hand. Our annual open house was a great success with over 800 people in attendance. We just finished up a weeklong camp for a Christian online school called the Potter's School. There are around 100 attendees, including a few international students from Europe and Asia. Individual students, as well as their families can attend. We run it much like a regular week of summer camp.
Projects: This spring we have also been working on finishing up some large projects which include new staff housing; the installation of a double wide mobile home on a full basement and a single wide mobile home. We also have been working on renovating the Cattleman's hotel, which includes; installing downstairs' bathrooms, raising the roof, and adding upper and lower back decks. Raising the roof allowed us to increase the size of the upstairs bathrooms, and the decks will allow guests to sit outside and enjoy watching activities or a beautiful sunset.
Summer Camp: We wrapped up the classes part of the School of Discipleship and students are now in their summer positions helping prepare their area for summer. Our summer camps are almost full with over 1150 kids registered for camp, with only room for approximately 110 more kids. Our staff training starts on June 11th and goes through the 20th. At the time of writing this letter we still have need of more staff, especially guy counselors, but God always provides what is needed. Please pray for our summer staff as they seek to minister to the kids, and the kids as well, that God will prepare their hearts to hear His Truths.
Travel: In the midst of everything going on here at camp, we were able to take a trip to Montana to attend Tim's graduation from Journeyman's school. He takes his state test in June and if he passes, which I'm sure he will, he will be an official electrician. On our way out we stopped in Kentucky to see a past student/staff, Jessica Mohr. We then swung by Kansas City, MO for my great nephew's wedding. After that we stayed with one of our past students, Mallory Bauman and her family in South Dakota and then on to Tim's. We had a great time with Tim, Sam, and the kids! We went into Yellowstone a couple of times, took a drive up to where Tim works on some very plush homes in Big Sky, MT, and took a hike up a mountain trail to see a beautiful waterfall. Of course we had a great time playing with the grandkids. While there, we also took a trip to see Patty May who was also on staff at the Ranch. On our way home we had breakfast with Stuart and Ann Curry who were our students in the early nineties. We finished up our trip by stopping over in Wisconsin to visit Sandy's family. It was a long trip, but it was great fun catching up with friends and family.
After our return we went to Carlisle, PA the first weekend in June for Chris and Sarah's baby shower. Sarah is having a girl and she is due in July. We had a wonderful time visiting with family and celebrating the coming birth.
Transitions: As we mentioned in our last newsletter, we will be leaving the Ranch after our School of Discipleship graduation, on August 19th, to work at Children's Bible Ministries (CBM) headquarters in Tennessee, at Tuckaleechee Retreat Center (TRC). You can look up the ministry at https://childrensbibleministries.net/ and see where we will be by clicking on "About" on the menu bar and then "Our Headquarters." You can also go to https//tuckaleecheeretreatcenter.com/. After much prayer, we are confident that the Lord has opened the door and is leading us to this ministry. It's not easy leaving the Ranch after all these years, but we are trusting in the Lord to bring in just the right people to take our positions at the Ranch, someone who can add new insights and continue to help the ministry move forward as the Lord leads.
Moving: Our current plan is to move our things down August 14th, getting as much as we can set up and put away the 15th and 16th, and heading back to the Ranch for graduation on the 19th. We will then head back to TRC on the 20th and start in our new ministry on the 21st
Support: We are so thankful for all of you who have supported us here at MMR and would love your continued support as we move on to CBM. We will continue to be able to receive support at MMR up until August 20th after which, if you wish to continue supporting us, your support will need to go to CBM. If you would like to join our support team we would love to have you.
If you would choose to support us in our new ministry:
Checks can be made to Children's Bible Ministries and sent to 160 Bear Lodge Dr, Townsend, TN 37882. Please include a note with our name on it for designation. If you send checks through your bank please note Hungerford's in the memo.
If you wish to use a credit card or ACH you can go to www.continuetogive.com/hungerfords_page
If your current support is automatically charged monthly to your credit card or ACH, please notify us or MMR of your desire to stop or switch your support.
Praise for:
The safe and awesome trip we had going out to Montana
God's opening this door to this new opportunity to serve Him
All the kids already registered for camp and the many full weeks
God's gracious and constant provision
Please pray for:
God's provision of the person(s) to replace us at the Ranch
This up-coming summer – safety and fruitfulness
Us as we try to get things packed, organized and ready to move
Safety during the traveling back and forth
Thank you for your love and support. We will miss many of you with us not being at the Ranch, but we will have a spare room in our house and will love having visitors. So please come see us, it's a beautiful area just outside Pigeon Forge and Gatlinburg TN.
With much Love
Chip & Sandy