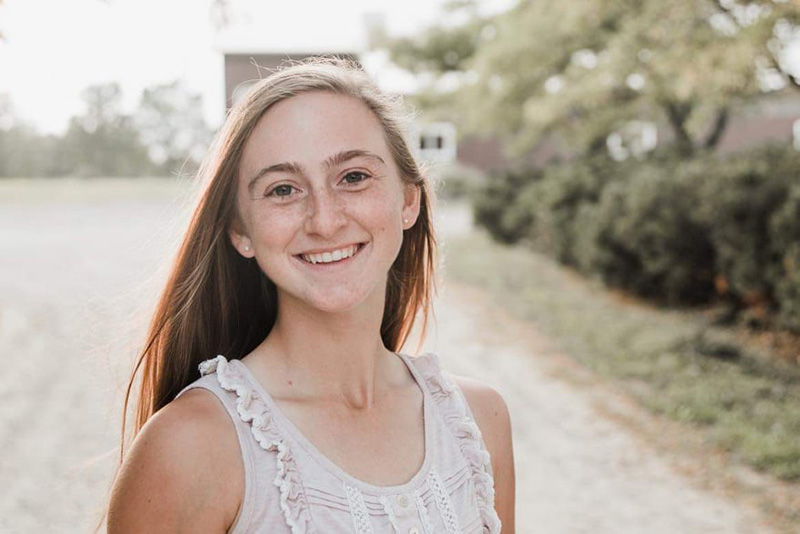 Rachel Rothey
Rachel Rothey grew up coming to the Ranch for Summer Camps and Retreats. She graduated from the School of Discipleship in August 2021. Rachel joined us on staff in the Operations Department in the fall of 2021. She will be doing landscape as well as light construction work and operations paperwork.
Rachel's Newsletter
February 21, 2023
Hello Family and Friends!
I deeply apologize for the length of time it has been since my last update! I have been busy between a new group of students, big projects in the shop, and then the holiday season. I was so thankful to get to go home for a week or so before the new group of students came in September and then for several days during Christmas. It is always so wonderful to get to spend time visiting family and friends as well as getting some rest.
This fall the Ranch has had several exciting projects going on. In September, I was able to help with second cutting hay. Learning how to mow, tedding the hay, riding along in the tractor that runs the big baler, load hay onto trailers to take back to the barns and enjoy God's beautiful creation! This fall I also was able to spend a lot of time behind the wheel of one of the tractors that I got to work on last year, as I helped to clear a lot of trees to create a new road and area for two new staff housing trailers. We constructed a walk out basement out of a concrete block on which a double wide trailer now sits, as well as a solid concrete pad where a single wide trailer sits. These new housing options are a huge blessing to the Ranch and staff. While I was home for Christmas for a few days, there was an intense winter storm that swept through the Ranch, with chilling temperatures, during which a few frozen pipes burst. One flooded part of a staff home and the second caused several staff homes to be without water for several days, as they tried to find the problem. In the end, we replaced some other pipes that were in bad shape, and were able to get the flooded home fixed back up. I came back just in the nick of time to help with replacing and back-filling the underground lines!
This year I continue to work with Josh and Alyssa Bridges as advisors for two students. We have Geneva Wagonmaker from Michgan who is a first year student in the barn. As well as Tiana Chambers who is a second year student in the kitchen. Both are a joy to have in our group! The students are in the thick of one of the more challenging parts of the year. It tends to be a bit challenging to continue on, encouraged and full of joy, as the days are cold and it tends to be darker and more dreary outside. So far, our winter has been quite mild compared to most which has been a blessing. We've received very little snow and have only had a few extremely chilly weeks. I've even been able to work outside in a t-shirt a few days these past couple of weeks! Summer seems to be approaching so quickly, it is crazy! I am still not certain what my summer may look like as far as what I'll be doing, but I am so excited to serve in any capacity I can.
Some prayer requests:
Health: I've recently gone to a doctor to get some testing done to hopefully find some answers and possible solutions to some health challenges I've been facing recently.
Summer Staff: We are looking for young people to come and work as staff for the summer. So far, the Lord has brought a few official hires and several more applications, but we need many more to make camps possible. We already have almost one hundred more ranchers signed up for camp this year than we did last year at this time, which is wonderful!
Thank you so much for your continued support and prayers! They are a huge blessing to me. I would love to hear from you and how you are doing! Please feel free to call, e-mail, or text me!
In Christ,
Rachel
Support:
If you are interested in becoming one of my supporters here are a few things to know: 100% of your gifts are given to me and are tax deductible. Checks can be made out to Miracle Mountain Ranch and have 'Rachel Rothey' on the memo line. There is also a direct withdrawal option from your checking account. This can be set up by contacting the ranch office at 814-664-7673.