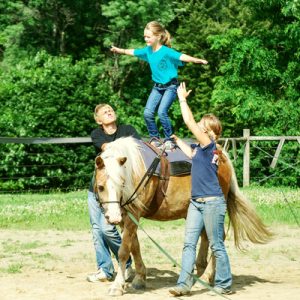 Vaulting Camp
| Week | Date | Age | Gender | Cost | |
| --- | --- | --- | --- | --- | --- |
| Week 5 | July 22 – 27 | 8 – 14 | All | $385 | |
This camp will give you the unique opportunity to do gymnastics on horseback! Vaulting will help develop your balance, flexibility, and confidence on a horse as you learn the specific moves (known as curs) that you will then perform in the closing rodeo in a creative routine set to music. In addition to all of that, you will get to participate in fun ground classes, pony cart driving where you can earn your driver's permit or license, and a trail ride. Don't miss out on this unique and exciting Horse Camp!
Vaulting is gymnastics on horseback. It is highly recommended that vaulters have some strength and flexibility to perform maneuvers.
Your 3 hours of instructional horse time will include:
Intro to Vaulting and its history
Single curs on the barrel and horse
Double curs on the barrel and horse
Triple curs on the barrel and horse
Creating your OWN vaulting routine
Trail ride
Driving
You will also get to experience some of the other activities of camp:
Swimming
Buckboard
Confidence Course
Games
And much more!
"I learned more skills about riding horses." - Summer Camp Rancher
"...She also benefitted greatly from continued education in God's love for her and learning to have faith in His plan for her life." - Parent of a Rancher
"Friendships, relationships with Jesus, life skills, positive influences." - Kerri on Summer Camp
"The staff has great, great focus on God with the horses" - Rancher's Mother
MMR is one of the best places I have ever been. I love it so much!! The staff there are amazing, Godly people and I learn and grow Spiritually every time I set foot on the Ranch..." - Kaylee, Summer Camp Rancher
"MMR is an AMAZING place...the staff are courteous and know their stuff...I am proud of the friendships that were developed there and sooo look forward to my next visit" - Joey