We have been blessed this year with a full season of adventure, fellowship, and opportunities to proclaim the gospel of Christ. It is our desire to share the hope found in a relationship with Christ through every part of what we do at MMR. We are very thankful for the 132 volunteers and 92 summer staff that worked alongside our resident staff to make MMR an effective place of ministry in 2018. Thank you to all those who gave of themselves by serving here at the Ranch.
Each year we lay out needs for ranch partners to consider. God has faithfully brought people into our lives who desire to come alongside with us in the work here. Whether you support the Ranch through prayer or by financially giving, we are grateful for you! This year we are focusing on raising money for three areas of need. We are looking to complete the School of Discipleship learning center, as well as gather funds for both our General Fund and Scholarship Fund. We are grateful for those who partner with us in the ministry of spreading the Word of God. Check out more details on these upcoming projects on the next page.
New Learning Center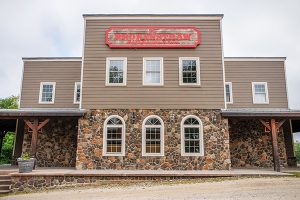 The School of Discipleship began in 1981, and through the years, has focused on mentoring young men and women, providing Bible classes and hands-on training through apprenticeship in ministry. We are excited to be constructing a new learning center in the lower level of the Brokenstraw Bathhouse and Inn. This 2700 square ft room will include a library, classroom, and study area, providing an atmosphere conducive to learning. Our goal is to raise approximately $35,000 to complete this project, including furniture, tables, lighting, and audio/visual needs. This is the last phase of the Brokenstraw Bathhouse and Inn Project that we began in 2012.
Scholarship Fund
This year we helped send 289 youth to camp. The Ranch is committed to providing camp for families and youth that can't afford it or need a little help. We yearly raise support for the Scholarship Fund. Our goal for this coming year is $70,000.
General Fund
We could not run Miracle Mountain Ranch without donations and volunteers. Fees do not cover the yearly budget without the help of donations. Raising funds for our general fund will help us with things like ongoing maintenance projects and day to day operations. Our goal is to raise around $15,000. The General Fund donations keep the cost for camps and retreats low, allowing opportunities for more people to attend.
Thank you for supporting and coming to Miracle Mountain Ranch! We hope that the Ranch can be a place of encouragement for you and your family!
Matt Cox
Executive Director
Miracle Mountain Ranch Missions, Inc.
"The entire camp is such a wonderful program. And being able to trust people with my child is a major thing, so it is also a benefit for the parents to feel ease knowing their children are being taken care of!"
– Cassondra Fahey
"Such kindness exuded from EVERYONE! Smiles and happiness. Delaney is teaching me games she learned and just yesterday jumped off the couch yelling "MMR is the best!" Thank you all for a job well done. So impressed by the "all hands on deck" atmosphere!"
– Jill Curtis
"Spent two years here going to the School of Discipleship. This place has impacted my life for eternity in both developing my relationship with Jesus Christ as well as the friends and mentors that I have gotten to know along the way."
– Micah Wallace