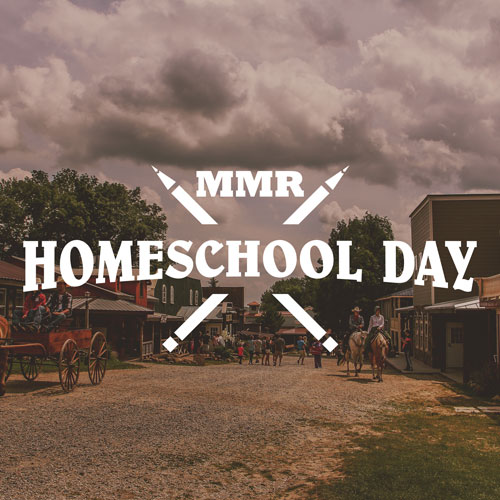 Cost: If you register online the cost is $7/person. Day of registration is $8/person (Ages 0-2 are free).
Included: Lunch, activities and talks, pony rides, wagon rides. (on a first-come, first-served basis). Parents are responsible for their children during all activities.
Schedule
Thursday, Oct. 7th
10:00 Arrival
11:00 MFTM – Matt Cox
12:00 – 1:00 Picnic Lunch
1:00 – 1:45 Slot A
Fire Dept. Safety Talk 
Session: Teaching Math at home
Session: How to teach the Bible at home
2:00 – 2:45 Slot B

Fire Dept. Safety Talk 
Session: Preparing a Portfolio
Session: Life Lessons for being a supportive husband and faithful dad (for men only).
3:00-3:45 Slot C
Horse Science Talk 
Session: How Parents are uniquely talented to teach their kids at home
Session: Tips to help you improve your photography
All Afternoon (1:30 – 3:45)
Vendor Area and Curriculum Swap Area (Town Hall)
Critter Corral (all ages)
Pony Rides (ages: 2-7)
Cowboy Campfire
Climbing Wall
Buckboard Store
3:45 Thanks for Coming!
If you plan on participating in the curriculum swap, here are just a few things to remember:
We will have tables available at 9

:00 a.m.

for setup so that people coming in will be able to view tables as they arrive. They will also have a chance to view these tables in the afternoon.
It might be a good idea to share a table with a friend and take turns watching your table so everyone can participate in the events, which repeat each hour.  (A half table is free for each person/family and whole tables are $10.00.)
Please remember to bring your own petty cash to make change for people who want to buy your items. Decide ahead of time if you are willing to accept personal checks.
We will have a staff member in the room throughout the afternoon if you need to step away, but they cannot keep an eye on every table.  If you are comfortable with it, you can leave an envelope or box on your table for people to put money for purchases in your absence.
Since this is your table, it is not limited just to books, but teaching aids, videos, and anything else you think other homeschool families might find interesting.
If you have not already signed up for a table, please do so here so we can be sure to have enough set up ahead of time.