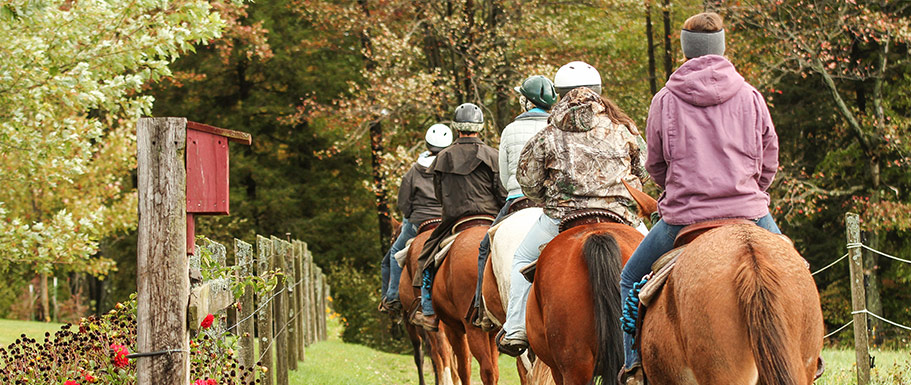 Fall Horse Lover's Weekends
Date: September 28 – 30, 2018
Age: 8+
Are you looking for a weekend adventure centered around a western atmosphere with qualified instructors to broaden your horsemanship skills? With many classes of horsemanship to choose from, this weekend is designed to have something for everyone; whether you are a beginner or a seasoned horseman. The weekend will give you insights into riding and training skills while developing a deeper relationship with Christ. Come join our qualified staff for a weekend of scenic trail riding, practical ground classes, and valuable horsemanship instruction. There will be some open fire cooking and many hands-on cowboy experiences that are all flavored with an ample portion of genuine western hospitality. Hope to see you there!
If you would like to bring your own horse, contact MMR to obtain the necessary forms, boarding cost, and vaccination requirements.
There is a weight limit of 250 lbs. for all riders. It is highly recommended that you have the ability to mount and dismount the horse with minimal assistance. Please contact the MMR office if you have any questions.
Adult Costs:
Top Hand Quarters: $180
Bunkhouse: $155
RV Site: $135
Youth cost (8 – 12):
Top Hand Quarters: $150
Bunkhouse: $125
RV Site: $105
(Those age 8-12 must come with adult)
Bunkhouses are bunk-style units with no linens provided.
Bathrooms will be provided via our new central restrooms.
Bathrooms are provided at the top hand quarters
for top-hand quarter residents.
All housing units are shared with others
unless being housed as a couple or families.
Bring a group of five or more, and get $15 off per person!
"I learned more skills about riding horses." - Summer Camp Rancher
"...She also benefitted greatly from continued education in God's love for her and learning to have faith in His plan for her life." - Parent of a Rancher
"Friendships, relationships with Jesus, life skills, positive influences." - Kerri on Summer Camp
"The staff has great, great focus on God with the horses" - Rancher's Mother
MMR is one of the best places I have ever been. I love it so much!! The staff there are amazing, Godly people and I learn and grow Spiritually every time I set foot on the Ranch..." - Kaylee, Summer Camp Rancher
"MMR is an AMAZING place...the staff are courteous and know their stuff...I am proud of the friendships that were developed there and sooo look forward to my next visit" - Joey
Sample Horse Lover's Weekend Schedule:
Friday
7:00 Check in and welcome
8:00 Message from the Mount (Rafter K)
9:00 Activity Sign-ups (Rafter K)
9:30 Snack
9:45 Hayride (Weather Permitting)
Saturday
8:00 Breakfast
9:00 Activity Block #1 (2 hr. Trail, Class Set 1)
10:30 Activity Block #2 (Class Set 2)
11:30 Ground Options (See List)
12:30 Lunch
1:30 Activity Block #3 (2 hr. Trail, Class Set 3)
2:30 Activity Block #4 (Class Set 4)
4:00 Message from the Mount
5:00 Ground Options (See List)
6:00 Supper
7:00 Activities in Town Hall (See List)
8:00 Campfire and singing (Ox Yoke)
9:00 Buckboard Store/Hayride
10:30 Silent Auction CLOSES!!!
Sunday
8:30 Ride out for BTR (Santa Fe) Breakfast and chapel on the trail.
Sample Activities and Classes:
Classes offered: Saturday
Trail rides: 9:30 & 1:30 (2 hrs. each)
SET 1 ~ 9:00 am: Basic Riding, English Flatwork with jumping, Training 101 with Matt Cox, Intro to Reining
SET 2 ~ 10:30 am: Intermediate/Advanced Riding, Drill Team Riding, Games on horses
SET 3 ~ 1:30 pm: English riding with Jumping, Intermediate/Advanced Riding, Training 101 with Matt C, Games on horses
SET 4 ~ 2:30 pm: Basic Riding, Drill Team Riding, Intro to Reining
Ground Options: Saturday
11:30 ~ Buckboard Store, Vaulting, Ground Training/Driving, Round Pen & First Ride Demo, Trailer Loading Demo
5:00 ~ Buckboard Store, Advanced Horse Care/Training Equipment, Show Grooming Tips, First Aid Class, Driving
7:00 ~ Rope Halter Tying, Leg Wrapping, Knot Tying, Bits, Roping
Fireside Options: All Day!!!
– Roping & Branding
– Cowboy Coffee & Hot Chocolate
– Singing
– Dutch Oven Treats!!!