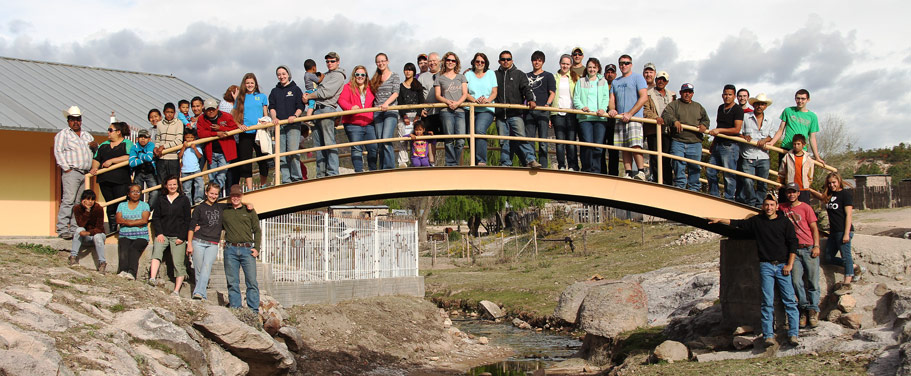 Dear Friends,
Thank you for your prayers and interest in the 2015 Mexico Mission Trip! We are all back, safe and sound, and excited about what the Lord has done in and through us on our journey.
We had a wonderful group of 24 people, 12 men and 12 women, who wholeheartedly poured their energy and resources into blessing the people we encountered in Mexico. Every one of us were immensely blessed in return by the thankful smiles and words of encouragement from our Christian brothers and sisters there.
The first leg of our trip took us to a little mission outpost in Rio Chico, where we spent three days assisting the mission staff. We helped with spring planting and making repairs in the greenhouse, pouring concrete and painting at a local church, and cleaning up an orchard of 400 fruit trees. There was a lot of cleanup to be done after the winter months, but we all had a fantastic time and very much enjoyed the springtime mountain weather.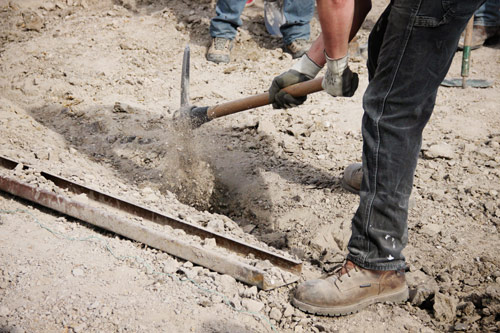 During our second phase in Mexico, we spent another three days ministering to the Pima Indians in the little mountain village of Babicora. Over the last several years, our group has been able to build relationships with the people of Babicora and assist the village pastor in reaching them with the Gospel. It's always been relatively easy to connect with the children through games and activities, but this year we were particularly surprised at the marked difference in the response and receptiveness from the adults.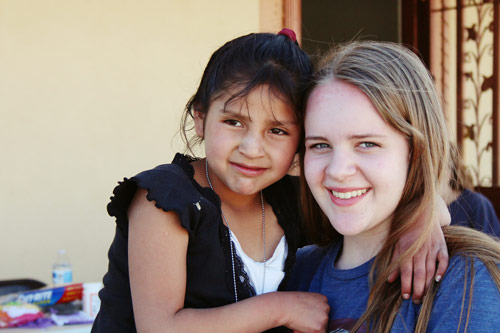 This year, we had activities, crafts, skits, and Bible stories for the kids, as well as some crafts and devotionals for the ladies in the village. (The pastor's wife told us that every single lady in the village was there for that – around 40!) On two of the evenings, we showed The Jesus Film and The Jesus Film for Children on a projector screen outside of the church. The people were very excited to see Bible stories of the ministry, death, and resurrection of Jesus in their own language. For the showing of The Jesus Film on the first night, there was standing room only.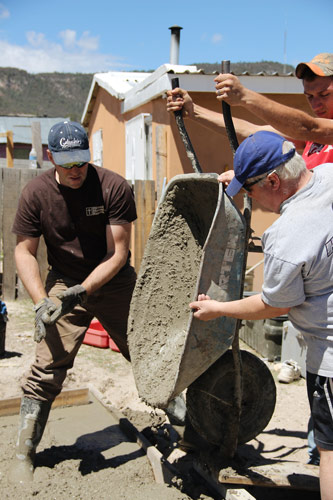 We did some fix-it projects around the village, like putting up new basketball rims, building onto an existing concrete wall, laying a concrete driveway, and installing a rolling metal gate to enclose the pastor's yard. We did a lot of talking and planning about improvements to be made for next year, so we're already making preparations for that.
The Presidenté of Babicora (their mayor-like leader) approached us about helping them find a way to increase their water supply. Please be praying for wisdom as we research the best way to meet this need next spring, whether it be by laying a water line from a spring eight miles up and over a mountain or by drilling wells there in the village. An increased water supply would mean the ability for the people of Babicora to grow food for themselves, which would greatly improve their quality of life. As of now, they only have enough of a water supply to drink and bathe.
We were also thankful for very smooth travels everywhere we went in Mexico. Thank you for your prayers. We certainly needed them! Our team came back tired, but immensely blessed and already excited about next year.
If you wish to join our group next year, we will be publishing updated information on our website about next year's trip within the next month or so. If you wish to contribute funds toward the missions of Rio Chico and Babicora, contact Mark Brenner at 814-964-9651 or Mark Carpenter at 814-664-0195. Any financial assistance would be of great help and would enable us to better serve our brothers and sisters there.