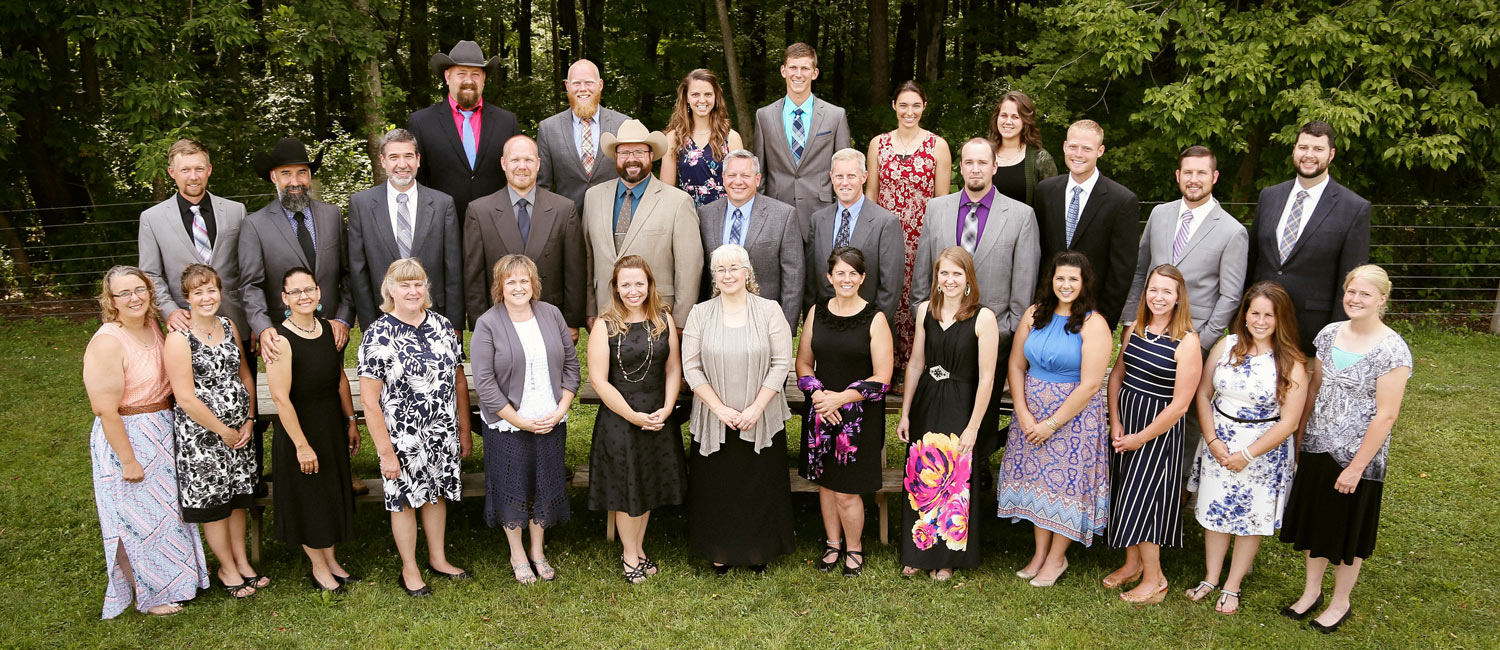 When evaluating a horse for conformation, it's important to view them from a distance to determine things like balance, but you have to get up close to evaluate the feet. An old horseman saying is "No hoof, no horse." If the feet are bad, the horse will never be sound. This can also be true with a ministry. The Lord has richly blessed Miracle Mountain Ranch over the years with wonderful opportunities for ministry. When we consider the health of the ministry, God has been affirming, blessing, and clearly directing in many different areas. The staff of MMR play a big part in why that's true. Just like a horse's feet, they are foundational to this ministry, and so are you.
All of the resident staff of MMR live on mission support that we individually raise, giving us many opportunities to witness God's provision for our needs. Since I came in 1991, I've been blessed to be a part of a staff who are sold out for the Lord Jesus Christ. I am humbled to serve with a team who also see their roles here as a calling. Due to the nature of the ministry, all staff are on the front lines, though some are more visible to the public than others.
Discipleship is at the heart of our ministry and staff. The Great Commission (Matt. 28:16-20) makes disciple-making the priority of the Church and every Christian disciple. Our staff exemplify a clear understanding of that commissioning because discipleship often occurs by simply doing life together–it will be caught as much as it is taught. The life-on-life model that the staff commit to doesn't fit the regular 9–5 work hours. It's not a job, but a lifestyle choice that they have made. They are deliberate in inviting others into their lives as they follow Christ, not as pictures of perfection, but as models of grace. If I had to define them in a few words, it would be faithful, obedient and willing.
Many of our staff have not been able to meet their recommended support goal. Some of our staff have served here for over twenty years and are now facing the question of whether it's time to move on in order to provide for the future. Would you prayerfully consider becoming a part of the team that makes it possible for all of us to continue our service here? The blessing of a "supporter" is not only the financial provision, but also knowing that others are prayerfully coming alongside us as we serve. Prayers for wisdom as we counsel, advise, and serve in whatever roles the Lord assigns are precious gifts to us. If you are interested in financially supporting any of the staff at MMR, you can check out our website at www.mmrm.org and click the "About" tab, which will then take you to the Ranch Staff Support page.
We are also implementing a new program for 2018 where you can choose to become a Ranch Partner by committing to give to the staff through a general support fund. This fund will be divided amongst the staff to help supplement their income. I would like to thank you in advance for considering being a part of our team here–for indeed, as you help to lift the burden, you are in turn touching those to whom we minister in Christ's name.