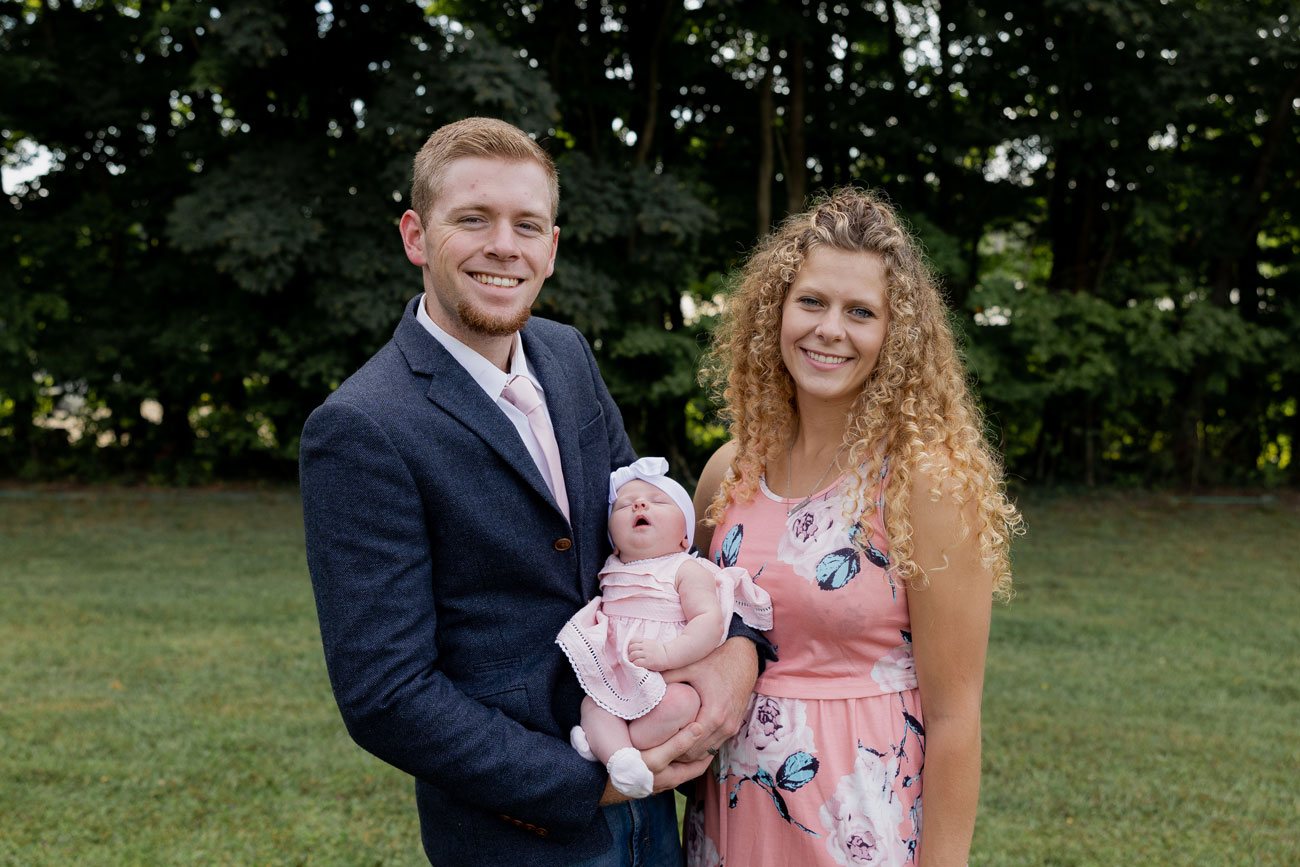 Daniel and Cherish Benedict
Daniel and Cherish both graduated from the School of Discipleship and then joined our staff team in 2019. Daniel is the Assistant to the Director of the School of Discipleship. He is involved in teaching Bible classes, helping with school admissions, and assisting the students on a daily basis. Cherish serves in the office as our part time Receptionist and Registrar. Her job entails answering phones and emails, registering people for retreats and summer camps, and assisting in finances as needed. They have one daughter, Caroline.
News From The Benedicts
Fall/Winter of 2022
Dear friends and family,
It has been an incredible year filled with some major life changes! On August 10th we welcomed Caroline Jane Benedict into the world. God blessed us with a safe delivery and a very healthy and happy baby. She is beautiful and we are so madly in love with her. It has been a joy to love and take care of this baby girl who made us parents. We are so grateful for those of you who reached out and kept us in your prayer as we neared her delivery. Since the birth of Caroline I, Cherish, have stepped down from being the full time receptionist and registrar here at MMR. I was able to work full time up until the day she was born, praise God! I am still working part time and am overseeing registrations. I have enjoyed every moment that I can be in the office, but my number one priority is being a mother. You may remember us mentioning that I had two girl students who were working underneath me in our Guest Services department. Caitrin was one of the girls and I asked her to come on staff and take over as full time receptionist. She is doing a great job filling that role and we praise God for his provision!
Another change is that we said goodbye to our graduating students on August 20th. It was a beautiful celebration and we are excited for the work that God is going to continue to do in their lives. Two of the students that Daniel and I were advisors for have stayed on as second year students (we weren't ready to say goodbye to them anyways) along with 9 others! In the beginning of September we welcomed our new group of 18 first year students. They are adjusting well, and we are enjoying getting to know them all. Daniel and I are blessed to have two girls in our advisor group this year. We have Esther, a second year student, and Faith, a first year student. They are a wonderful blessing!
Let me give you a quick update of things that have transpired over the last few months here at the Ranch. Over this past spring we were busy with building a new bunkhouse that we could use for our Summer Camp and Retreats. We had many volunteers come and work on it and we were able to get it up and running for this Summer. It is a huge blessing as we can house 20 additional people, which means 20 more people who will hear the Gospel. This summer we had just over 1,200 kids attend camp. It was such a great summer with many professions of faith. Our theme was 1 John 4:7-11 which says, "Beloved, let us love one another, for love is from God, and whoever loves has been born of God and knows God. Anyone who does not love does not know God, because God is love. In this the love of God was made manifest among us, that God sent his only Son into the world, so that we might live through him. In this is love, not that we loved God but that he loved us and sent his Son to be the propitiation for our sins. Beloved, if God so loved us, we also ought to love one another." We know that love for God is not weak and complacent. We look at Jesus and see how he condemned sin and loved the sinner. In condemning sin he was loving the sinner. We must remember that to be silent when the world is falling into wretched sin is to accept the sin. Rather, we should shout all the more loudly of repentance, in doing so, we are loving our neighbor. We also had a great turn out for our Fall retreats. We had two Family Camps, Horse Lover's Retreat, Ladies Retreat, Homeschool Day, Dinner Trail Ride, Harvest Party, and our Camp Meeting.
Daniel is quite busy as he is teaching three classes to our students this year: Technology in the Christian Life, Old Testament Survey, and Systematic Theology. He is currently teaching Old Testament Survey and will have a small break from teaching during the holidays before starting Systematic Theology. He is also busy with his own seminary classes online.
God has blessed us with an increase in financial support and we are so grateful to those who stepped in the gap. We are raising roughly $2,000 each month. It is encouraged by our board of directors that families working at MMR with children should raise $3,100. We have already been blessed as our church and ministry have been helpful in regards to Daniel's education, so we know God will provide for our needs. If you have an interest in supporting us financially you can use the button below to find out how to give. We appreciate all that you do for us and are certain that we could not serve here without your prayerful support.
Serving our Lord together,
Daniel & Cherish Benedict, and baby Caroline
Prayer Requests:
For the students as they continue to settle into the school year
Specifically for Esther and Faith as Daniel and I seek to model a life of devotion to God
For Daniel and I as we learn our new roles as parents
For finances for us as staff members as Daniel is in seminary and for the ranch as a whole, that God would continue to provide
For our Country and the surrounding Countries that God would glorify Himself!