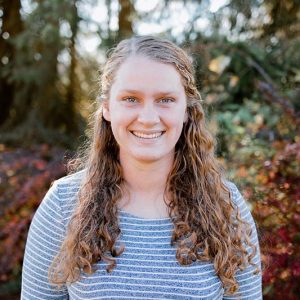 Hannah Landis
Hannah is from Bucks Country, PA and has served as summer staff at the Ranch for three summers. She is now on staff in the kitchen department and will be assisting with cooking as well as mentoring the students that come through the kitchen. Hannah is excited to see how the Lord uses her to further His kingdom while at Miracle Mountain Ranch.
Hannah's Spring 2023 Newsletter
April 2023
Dear Friends and Family,
Winter is slowly turning into Spring here at the Ranch, and we are greatly encouraged by the warmer weather and things beginning to turn green! Along with the changing season comes an update of my past five months of life at the Ranch!
I have been adjusting to work in the kitchen and I'm definitely feeling more settled in my roles there. My main responsibilities consist of meal prep and periodically overseeing the students who rotate through chores in the kitchen. This year we have three students in the kitchen department, so I spend a majority of time learning with them and helping in specialty classes. The student's focus this year is on baking, so we have had lots of fun trying out many different types of breads and sweet desserts. On Thursday afternoons the students go to various areas for work projects, so I have been able to help out with the remodel of one of our buildings. Most of what I have done has been removing bunk beds and other furniture from the rooms and tearing down drywall!
Over the past few months I have gotten to be involved in the many retreats and events we have hosted. I have really enjoyed getting to see them all in action and serving a larger number of people. We still have quite a few retreats this Spring before Summer kicks into full swing.
Another one of the opportunities I have here at the Ranch is to co-advise a pair of students from the School of Discipleship with Adam and Chelsea Marshall. Our students are Lydia and Linda. We meet weekly on Tuesday for dinner that Chelsea prepares for us and have lots of discussions and enjoy hanging out. We also have the responsibility of grading their monthly school projects and I get to help with that in some way. It is always encouraging to see what the girls have been learning and hear them recite the scripture they have been memorizing for the month.
In February I got to attend two conferences that the Ranch sent me to. The first one was a week-long conference by Faith Biblical Counseling Ministries in Indiana. It was a super intense but incredible conference where I along with other staff and second year students got to learn about using the Bible and a Christian worldview to counsel people who are struggling in various areas. One of my responsibilities for the trip besides driving was to plan meals and buy food for us to cook and eat during the week. The second conference I attended was with Christian Camps and Conference Association. It was a very enjoyable time where I got to know a lot of people who also serve in camp ministry and was able to learn more about how to serve better in my job.
Currently as I write this letter our students are on Spring break. For most of the break the kitchen is shut down, so I go into other areas like the barn and operations to help out as needed. The first few days of break I was able to travel to Canada to visit a friend from Bible school and her husband. It was a refreshing time to be able to visit her and get away for a few days. Many of our students and several staff members are currently on a mission trip in Mexico so I ask that you be in prayer for them as they serve there.
I wanted to thank each of you who have been praying for and supporting me over the past few months. It is an encouragement to know people are thinking about and praying for me as I serve the Lord here. I am excited to make a trip home from May 8th-15th and I am hoping to connect with many of my local friends and family. If you are in the area please let me know so I can fit a visit into my schedule.
Prayer Requests:
That I would serve and work faithfully and to the best of my ability.
For the students that they would continue to grow in their walk with the Lord and as they prepare for an intense Summer of ministry
That all the staff and students will feel rested and ready for a busy Summer, which starts in early June
That the Lord will provide all the Summer staff that are needed, especially counselors
That the hearts of the kids who come to camp will be prepared now to hear the Gospel
In Christ,
Hannah Landis