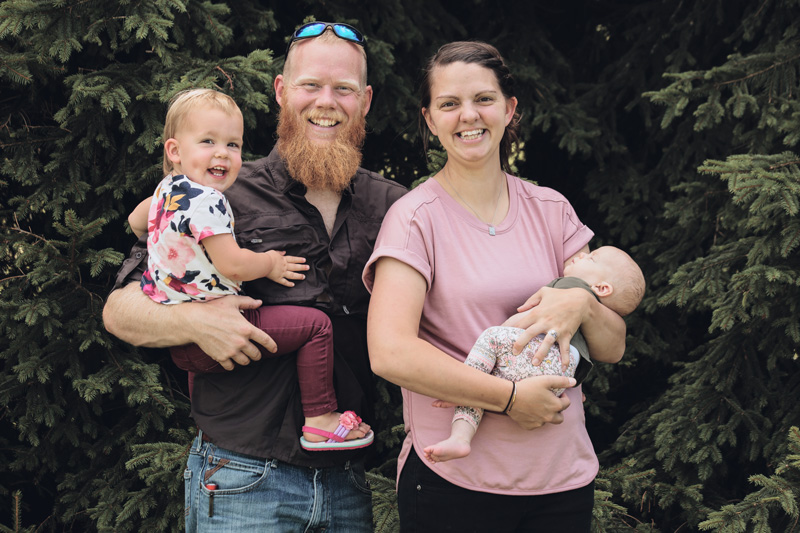 Teddy and Noelle Purdie
Noelle is a 2010 graduate and Teddy a 2011 graduate of the School of Discipleship. They were married in April 2018. Teddy has been on staff since September of 2014 and works in the Program Department as the Activities Director. His job includes maintaining current programming activities, handling the Boys Wilderness Camps, paintball, assisting with retreats and events, leading student work crews, and researching and implementing new ideas. Noelle has been on staff since September of 2011 and is our Guest Services Manager and Accountant's assistant. Her responsibilities include organizing volunteers, overseeing the cleaning and upkeep of the facilities, and general work in the accounting department. Teddy and Noelle have two daughters, Hannah (2) and Ruby who was born May 19, 2021.
The Purdie's Post
Spring/Summer 2023
Wow do we have a lot to update you all on! The winter and spring seemed to fly right by as we were busy with the many retreats and events that the Ranch hosts. They were well attended and spiritual growth was shared by many during that season.
I started working 2 mornings a week in the office again but in a different position. Our accountant/bookkeeper and his wife are retiring at the end of the summer season so I have begun to take over a small part of his responsibilities. I am enjoying being back in the office and helping to fill a need. Please pray that I am always aware of my family's needs and put them before my work.
Our annual Memorial Day open house saw over 800 people in attendance over the course of the day. It is always a wonderful day to see old friends and meet new ones who are coming to see what we are all about. We are just finishing up our first full week of summer camp and our summer staff have been doing a great job in their roles and learning a new schedule. We currently have over 1,100 kids registered for our 7 weeks of camp and only a few openings left for the summer! We are praising God for another full summer of camp and for providing the summer staff we need! We look forward to updating you all on how camp went after the summer season.
The students have been in their summer positions for about 5 – 6 weeks now and are getting better acquainted with what their jobs entail. Our guys, Daniel and Kenton, will be working with and mentoring the teen guy volunteers that will be in during the summer as well as taking turns helping with Wilderness camps. We have been excited to see the work that God is doing in their lives this past school year and look forward to hearing about the ways that God is working this summer as well.
Teddy has been busy getting things ready for camp. Finishing the archery pavilion and surroundings, prepping paintball, pool maintenance, ordering sporting supplies, getting things in place for the 4 weeks of boys' wilderness, among other various things.
If you hadn't heard yet (we are very sorry) Justin Edward Purdie was born into our home on March 4th! He weighed 9lbs 2oz and was 21.5" long when he was born. He is now 3 months old and weighs about 17-18lbs (depending on how recently he has eaten. 😀) and is 25" long! Such wonderful growth and he has brought even more joy to our home. The girls love him and were so very excited to have a baby brother!
His name means just protector and we pray that he will grow and learn to be that for his sisters.
We gave him the middle name of Edward in memory of my dad, who would have been so proud to be adding grandchild number 37 to the family.
Hannah and Ruby have grown and changed so much and are enjoying helping out with projects around camp to prepare for summer. This is the second summer that the girls have participated in the summer reading program at our local library. We are enjoying the programs they offer and reading tons to fill up our reading logs and earn prizes. 😀
Hannah is looking forward to school and learning how to read. She asked me the other day how I'm able to read the words in her books. I'm excited to help her learn as I have always enjoyed reading and learning.
Ruby is goofy and has the best facial expressions. She talks so much. She just turned 2 and talks about potty training often. I would appreciate prayers for patience and wisdom as we embark on that journey for her. 😀 She loves being with Teddy and, almost always, asks to "go with you daddy?" whenever he is leaving the house.
We would love to hear how all of our friends and family are doing! Please feel free to write us at: 101 Rodeo Dr Spring Creek, PA 16436 or e-mail at: [email protected] If you would rather receive our newsletter via e-mail, please let us know by e-mailing us at the above address.
Love,
Teddy, Noelle, Hannah, Ruby & Justin Edward
Help Wanted
Praises
For many summer staff eager to share the Gospel
We have just over 1100 kids registered for summer camp!
We sold our Saturn in the fall! (thank you for praying!)
Prayer Requests
The health and safety of our counselors and summer staff in the next many weeks of camp
For the Gospel to be shared clearly all summer long in every situation
That I would not neglect my responsibilities as a wife and mom as I get back into some office work