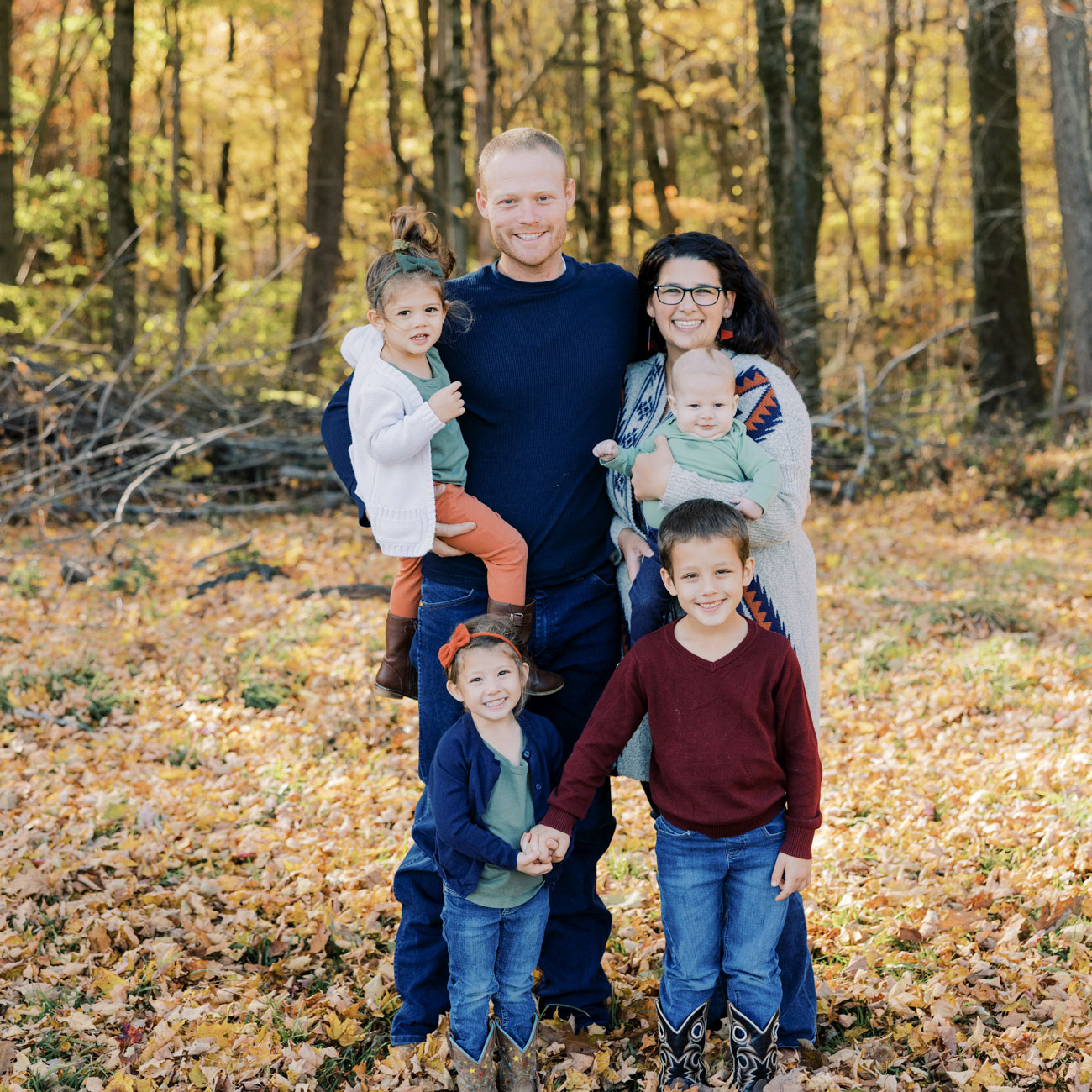 Nathan and Kelsey Snyder
Nathan and Kelsey are both graduates from the School of Discipleship. Nathan's primary role is working in Operations, he also assists in blacksmithing, vaulting, and promotion. Kelsey stays home, raising their three children: Judah, Hadassah, and Jane.
Snippets From The Snyder's
April 2023
About Us:
This winter was a mild winter for us this year. With the mild winter, we were able to enjoy a little more outside time since the kids didn't get as cold as quickly. They do still love playing in the snow, of course, and wish that there was more than what we have. Eating snow is a huge deal and as Adi likes to say, "I could eat all the snow of the whole world!" As the weather continues to warm, we have enjoyed the outdoors and going on tractor rides with Nathan to collect sap for our annual syrup making!
Judah has been loving helping Nathan with collecting sap and being out in the sugar shack while Nathan is boiling. He loves to bring the wood in and be a part of as much of the process as he can.
Hadassah loves to help me cook and do what I do. She also loves to help me get David dressed and changed. We often call her the little mommy as she is very nurturing and caring to her siblings. She also asked Jesus into her heart this past month and we are so excited to see how the Lord will work in her life.
Jane loves to follow her Dad and do whatever he does with her baby doll in arm. She loves to sing songs with her big siblings and copies them with her own flare.
I have been enjoying doing a lot of sourdough baking and cooking lately. It has been a lot of fun trying out new recipes and has been a small, fun, little hobby to pick up. A lot of other staff ladies have been doing it, as well, so it has been fun sharing recipes and techniques with them. I have been doing some school off and on with Judah, but we have been more off than on currently. I am trying to look at a few different curriculums to see what I think I want to do with him over this next year and what I think might work best with his learning style. I am still nervous in starting homeschooling, as I was not homeschooled, and nervous in trying something new but looking forward to starting this new adventure with him. I am looking forward to the warmer months ahead, of being able to start our garden, and more outside time.
Nathan has been busy at the shop working on a couple tractors that need repaired. We have had a few underground leaks over the last few months so we have been thankful for the warmer weather that has made it easier to dig and not be so cold while fixing the leaks. Over the next few months he will be continuing to repair a few tractors and start to get the equipment ready for the upcoming hay season.
This year we had a record breaking year for our syrup production! This year Nathan collected 10,100 gallons of sap and we made 191.5 gallons of syrup! Nathan decided to tap early in January when we had that warm spell and we are thankful we did. We feel very blessed to have been able to produce as much syrup as we did this year. We have played around with infusing the syrup with different flavors. So far we have done vanilla, which is great in coffee, and cinnamon, which is really good as a sweetener in applesauce. Our kids really like the cinnamon on their waffles. We are also looking into ways to ship syrup cost effectively to give us another way to sell.
This spring/summer we are hoping to get a few outside jobs done. Our roof needs some work done on it and we are hoping to expand our garden to be able to do more canning/freezing. Outside our first house we had made a nice outdoor fire pit/patio area and are hoping to make something similar to that again. Our final project we are hoping to get finished is our master bathroom. The floor needs to get jacked up on that side of the trailer first and then we will be able to put the floor back in and start the remodel.
Our Students:
Our one student, Hannah, decided to leave the program at Christmas. While we miss her, we know God is continuing to work in her life while she is home.
Katriel is a barn student. She is loving being able to learn how to train, learn more about farrier work, and build relationships with fellow students. We are so proud of how much she has grown spiritually this year and look forward to what the spring and summer hold for her.
The Snyders
Nathan, Kelsey, Judah, Hadassah, Jane, and David
We Praise God For:
An abundant syrup season
Your prayer and gift support
Hadassah's Salvation
The SOD students
Prayer Requests:
Safety while working with equipment
Wisdom in raising our kids
Health of our family
Our bathroom renovation and other projects
Support:
All gifts are tax deductible and can be made out to MMRM, designated for Nathan Snyder, and sent to the Ranch at: 101 Rodeo Drive, Spring Creek, PA 16436. Gifts can also be made on-line through the Ranch's website by using the button below.