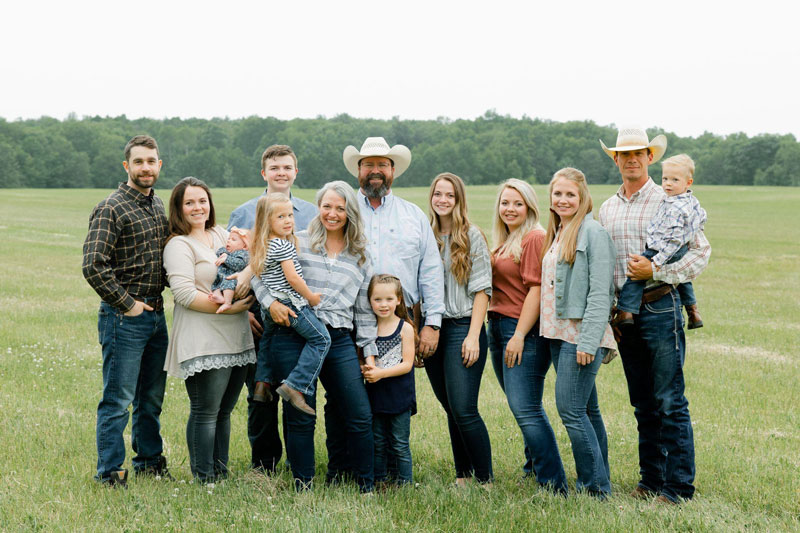 Matt & Jenni Cox
Matt and Jenni Cox came on staff in 1992. Matt has served as Farmer, Program Director, Director of Equine Ministries and now as the Executive Director. Matt teaches multiple classes for the School of Discipleship. Jenni serves as his secretary and has homeschooled all of their five children, three of which are out of the house now. Their eldest is married and living in TX with their three grandchildren. Jenni also assists with the "Marriage Dynamics" class. Both Matt and Jenni are School of Discipleship alumni.
The Cox Chronicles
Spring 2023
The Days of Anticipation
We've had many "big things" to look forward to this year, but those times of anticipation can also be tempting moments to worry about what will be. Expectant babies, upcoming trips, new adventures in life and ministry. I love an adventure and it's easy for me to jump right to the next thing. We sometimes don't take the time to enjoy what has already happened because we set our sights on the very next one. I can be a very driven person, mostly by my own expectations. As summer camp has already started I find myself falling into old patterns of reaching and stretching toward that next event, next item on the to-do list. I was recently humbled by this quote from Ann Voskamp. "Climber's distress is cured by kneeling down to love." It's being in prayer before God and humbling my heart to see the needs of others that will remove the distress of always striving and never arriving. My peace is necessitated only by understanding that I control NOTHING and everything I accomplish is because of God's grace and strength. My driven nature reveals my willful heart, and my frustration in being patient is the evidence that I want to counsel God instead of heed His counsel. Isaiah 26:3 reminds me that "I will keep him in perfect peace whose mind is stayed on Him, because he trusts in Him. Just ask my husband, I'm always on the move, so to "stay" on something can be a real challenge, but the reward of peace is always worth pursuing.
New Arrival!
We are so blessed to introduce you to the newest granddaughter! Seersha Grace was born to Megan and Simeon Wallace on April 25th. She weighed 7 lbs, 5 oz and is such a cutie. We have just loved having them all nearby, watching her grow and enjoying the snuggles.
Dominican trip!
In January, Lydia, Emily, and myself had the amazing opportunity to go on a mission trip to Hato Mayor, Dominican Republic. It was such an incredible experience and we pray that we can go back again this next January, with Jonathan and Matt as well. This trip allowed us to connect with a Dominican firefighter and just last month we were able to ship down air packs and bottles from our fire station here. We got to help with medical missions, block laying, children's bible school, women's outreach, distributing goods to the sugar cane field workers and so much more. It had many life impacting experiences for all three of us and is always such a great perspective giver when we step out of what is so familiar to us.
Family Updates:
Lydia took a big step in March and is interning for a year at a ministry in Lafayette, IN. She is working at Vision of Hope residential ministry and pursuing her Biblical Counseling certification.
Emily is working as Programming staff, assisting counselors and various other tasks for the summer and then looking at a Bible Program in the fall. She is really excited about being a part of the summer season again.
Jonathan finished his 9th grade year and is going to be a counselor in training for 2 weeks this summer. He will also be helping in the Media department as well as other areas.
Megan, Simeon, and Seersha will be with us on staff through the summer months. Simeon works in town but Megan is training her replacement during the transition. We love seeing them around camp.
Hannah, Garrett, Shiloh, Raelynn, and Rome have recently been able to come for a visit at the beginning of summer. Hannah and the kids came for a few weeks while Garrett was traveling and showing horses and he joined them at the end. They are also expecting their 4th child in November!
Ever Changing Ranch
Our ministry, much like life, is ever changing. We have been busy renovating bunkhouses so that we have more winterized units with bathrooms as well as installing two new housing units for our expanding staff. Since Christmas we have had 4 new babies born into our staff family! We are also anticipating some staff changes as the Hungerfords, who have served here for 35 years, are moving to another ministry making us the "senior staff." Some of the younger staff have fulfilled their one year commitments and will be leaving. This can be a real bittersweet time as our staff go through another adjustment, but we rejoice for those that are heading out for their next adventure with the Lord. As we look forward to celebrating our 30th wedding anniversary this fall, we can't help but marvel at the journey God has taken us on.
Praises and Prayer requests:
The Ranch's finances. With the expansion of staff housing and bunkhouse updates, as well as cost increases in every department, the general funds have been greatly taxed. Would you pray for God's provision for not only us as staff, but the ministry itself and its operating costs?
Matt continues to battle with the bursitis in his hips. He was able to ride after 8 months of not being able to at all. He is elated to be back in the saddle but cautious to not cause a setback. Pray for wisdom and continued healing.
We are rejoicing as all of our staff are in place for the summer season and camps are almost completely full as well! School of Discipleship graduation will be here shortly after summer camp ends and the new group of students will be arriving.
We are so humbled to be a part of the work that God is doing here, and greatly appreciative of all who have come alongside us with your prayers and support so that we can continue to serve. You are precious to us. Thank you so much.
Matt and Jenni Cox and family