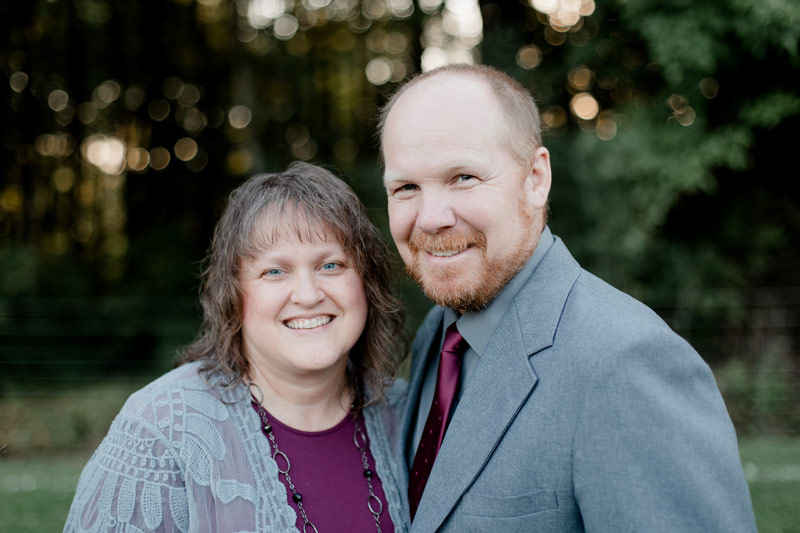 Mark and Shari Carpenter
Mark and Shari came on staff in 2001. Mark is the Director of Operations. He heads up all construction and maintenance, in addition to teaching the School Of Discipleship class on Servant Leadership. Mark and Shari have six children. Shari homeschools and assists in the Buckboard store.
Carpenter Connection
January 2021
Dear Friends and Family,
The School of Discipleship has been able to continue during these times of COVID. The students were sent home early for Christmas break due to some positive test results, but everyone is currently healthy and no one has any lasting effects. They were able to return as scheduled in January and their classes and training areas have been going well. I finished teaching my Servant Leadership class on January 20th. I am very blessed to have been able to spend classtime with them; walking through scripture and digging into what Christ meant in Matthew 20:25-28. If we are to be chief among men, we need to serve others. What a different world our younger generation is growing up in and what an opportunity we have to equip them with the foundation they will need to stand firm in their faith and be a light to the world. We just finished processing five cattle with the students. This is often the first exposure of the students to the processing of beef and the detail and knowledge it takes to provide this food source. The ministry has been blessed for many years with beef donated to the staff. Having the equipment and the staff knowledge for the processing of the meat makes it a special blessing to all ranch staff.
Operations: The operations department has been getting assistance from several other departments with demolition work on some bunkhouse interiors. We are doing some remodeling work to update some of the housing units. It will include two units with bathroom updates and several full bunkhouse remodels. We are also constructing 40 bunkbeds out of steel. If you have any welding/fabrication experience, please let us know. We could use the help. The plan is to have them ready for use this summer. Also, we just recently acquired four Kawasaki mules through the Federal Surplus Program. These items, along with other mowers and trimmers, are in need of maintenance work. If you are skilled in this area, it would be a blessing to get them all operational before summer.
Mexico: We are praying for the Lord to open the door for us to return this spring. The trip is planned for March 28-April 11. Please be praying for the work projects that we will do there, for the opportunity to drill several more wells, and for mission outreach within the villages. We currently have over 20 people signed up and pray that the Lord provides the finances for those who would like to go. The Prevost bus that we take to Mexico needs to have the air conditioning fixed and inspected before the trip. Please be praying that when we arrive, all of our drilling equipment that has set for two years, will be fully operational.
Family Updates: Progress is continuing on our addition. We did get it weather-tight before winter set in. We had so many friends and family help us get the basement finished for Shari's mom. What a blessing it was to have Shari's brother, Jeffrey, take several weeks from work to help finish! The basement area, where Shari's mother is living, was finished early January and the drywall is continuing in the upstairs area. We are also getting a new daughter-in-love in May! Joshua proposed and she said, "yes!" We are so excited for Joshua and Emily to begin a life together. We are also happy to say that Mark and Lindsey are both recovering to full health after their hospital stays this past year.
Thank you for your continued prayers and financial support. We could not serve here without all of you. We feel so blessed to have your partnership in the work here and we pray God will continue to bless each of you.
In His Service,
Mark, Shari, Lindsey, and James Brian
Prayer Requests
Students and staff continuing to grow in the Lord
Being able to hold traditional summer camp
Completion of bunkhouse remodels
Finances – ranch and personal
Tarahumara mission, hopefully be able to return in spring
Completion of our addition
Praises
Healthy students and staff
Getting mom moved in
Adequate hay supply for the horses
Mark and Lindsey's health and healing
GOD'S PLAN IN OUR LIVES
All gifts are tax deductible and can be made out to MMRM, designated for us, and sent to the Ranch at 101 Rodeo Drive, Spring Creek, PA 16436 or online using the 'donate' button below.