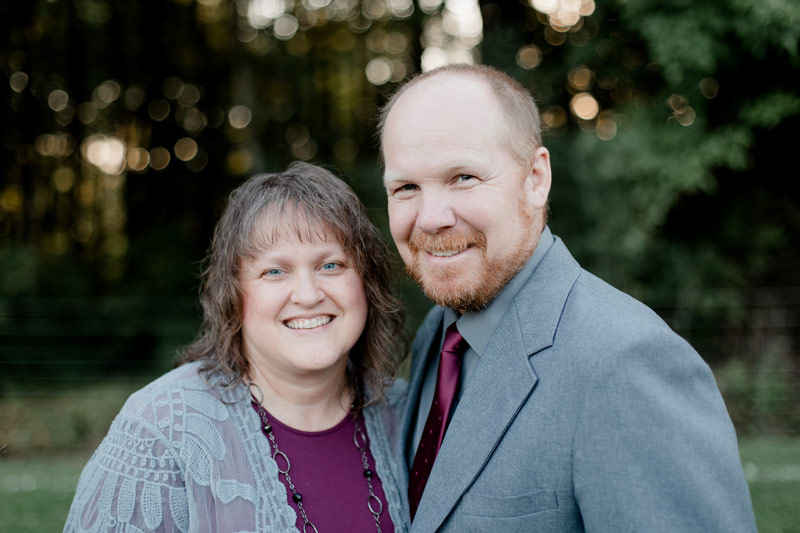 Mark and Shari Carpenter
Mark and Shari came on staff in 2001. Mark is the Director of Operations. He heads up all construction and maintenance, in addition to teaching the School Of Discipleship class on Servant Leadership. Mark and Shari have six children. Shari homeschools and assists in the Buckboard store.
Carpenter Connection
2022, Edition 1
Dear Friends and Family,
The snow has melted but the rain is continuing to keep things wet. The new bunkhouse is under roof. The School of Discipleship students are starting spring break with 8 of them joining the yearly Mexico missions trip. The summer staff is being hired and registrations are coming in very strong. Equipment and vehicles are being repaired in preparation for a busy summer.
We have been so amazed to see God's provision in so many areas of the ranch and in our own personal lives. He has answered so many prayers, too numerous to mention. How can we not trust Him and believe when He shows himself so vividly in our lives day after day! "But my God shall suppy all your need according to his riches in glory for ever and ever. Amen." (Phil. 4:19) This is not a promise of wealth or an "easy" life, but a promise to meet our needs according to His will. We will never lack with Christ as our "Provider."
Mexico:
We were able to stop and visit the Sterretts in Oklahoma on the way to Mexico. What a blessed time! When you receive this letter, we will be in Mexico. We selected two drilling locations last fall and have all the supplies lined up to drill and prayerfully get both into production. Please be praying for the day camps and ladies ministry, along with other work projects in the villages of Babicora and Rio Chico.
The wells will be drilled in two different neighboring villages. One will be in El Burro; we already drilled one there, but they are needing more water for a large greenhouse that has been constructed in the town. The other village has several families living there and they have no consistent water source for drinking.
Students:
We have enjoyed having two students in our family this year. Kyle Hilton is our 2nd year from Maine and will continue working in the media department during summer camp taking rancher pics and making the weekly videos. Matthew Adler is our 1st year from the Chicago area and will be working in the operations area during camp as well as staying in the bunkhouses with our boy volunteers. We also had the pleasure of adding a single staff guy, Ben Harris, to our group in January. He is working in the barn shoeing horses and barn maintenance. We have enjoyed hosting these boys in our home on Tuesday nights and look forward to what the Lord has in store for them.
Operations:
The Operations Department has been assisting some on the new bunkhouse project. Digging and pouring the footers, helping with backfilling, and pouring the floor. It is under roof and the interior walls are being framed. With God's blessing, our goal is to have it operational for use in June for summer camp. If you recall, we moved a bunkhouse from that location last fall to prep the site for this new bunkhouse. We have enjoyed having four S.O.D. students with us in operations since last fall. They have been such a blessing helping with equipment and vehicle maintenance and repair. They have had the opportunity to run some equipment, assist in some new construction, and welding/fabricating. We have been installing engines in two tractors and continue to be blessed by Charley Wade and recently, Tim Nordland, helping with farm equipment.
Family Updates:
We are finally able to share some Gideon Lee pictures with you! His adoption was final on March 11th!
Also, Isabella Avery Giangiordano was born March 22!
Timothy and Alissa are expecting in August! This will make 10 grandchildren for us!
AND, Lindsey is getting married May 1st! We are very excited to welcome Zack Mitchell into our family!
Thank you for your continued prayers and financial support. We could not serve here without all of you. We feel so blessed to have your partnership in the work here and we pray God will continue to bless each of you.
In His Service,
Mark, Shari, Lindsey, and James Brian
Prayer Requests
Bunkhouse construction in spring
Spiritual growth of students and staff
Mexico missions' trip over Easter (wells and evangelism)
Lindsey and Zack's wedding
Bunkhouse ready for camp
Praises
Finances for new bunkhouse
Bunkhouse project underway
Bus ready for Mexico on time
Volunteers and the work accomplished
Adoption of Gideon Lee completed
Arrival of Isabella Avery Giangiordano
Donation to help with wedding
All gifts are tax deductible and can be made out to MMRM, designated for us, and sent to the Ranch at 101 Rodeo Drive, Spring Creek, PA 16436 or online using the 'donate' button below.