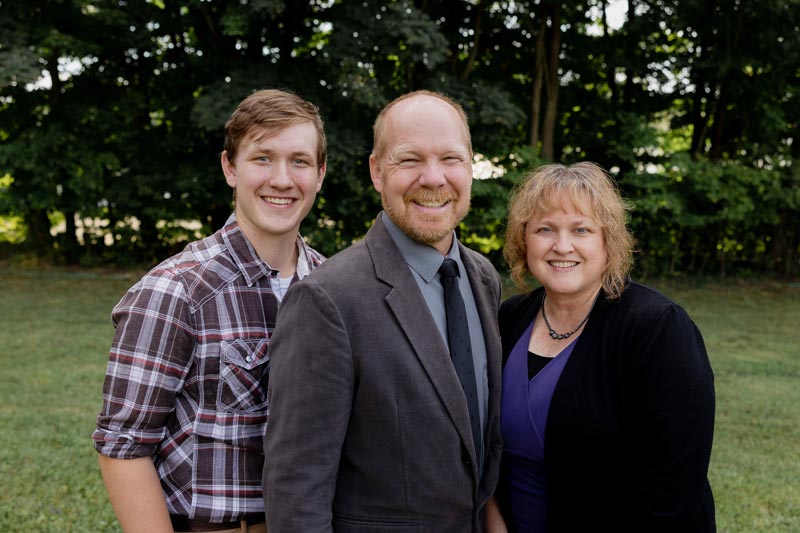 Mark and Shari Carpenter
Mark and Shari came on staff in 2001. Mark is the Director of Operations. Mark heads up all construction and maintenance, in addition to teaching the School Of Discipleship class on Servant Leadership. Shari enjoys assisting in the Buckboard store and hosting in their home. God has blessed them with six adult children (five of them married), and 10 beautiful grandchildren.
Carpenter Connection
2022, Edition 2
Dear Friends and Family,
Summer camp was well-attended with 1,223 ranchers. What a blessing to watch the excitement week after week! There were 71 decisions to follow Christ and many commitments to deepen their walk with the Lord. The focus this summer was to share the love and hope we find in Christ and encourage others to love God and to love one another. 1 John 4:7-8 was the summer theme. If you haven't had the opportunity to read 1 John lately, we would encourage you to do so. The commands given here are a responsibility for each of us as followers of Christ; a much different love than the world speaks of today. It was exciting to hear stories and testimonies of ranchers and staff realizing just how much God truly loves them.
Operations:
We are so thankful for the numerous donations and many hands that led to the new bunkhouse being ready for summer camp. We also had help remodeling and residing several of the older bunkhouses. We had many young men volunteering their time this summer to mow lawns, bring in hay, and help with other projects. We had a blessing of one of our young men realizing his need of a Savior! Praise God for the work of the Holy Spirit within his life! We have had 7 retired volunteer couples helping out on various ranch projects; accomplishing many tasks that we have had on the docket for several years. We have 4 other couples that will be helping from now through October. Hay production was a little less than last year, but should be sufficient to last through spring. It was all good quality and should keep the horse herd healthy. Praise God for many volunteers who helped keep the equipment running.
Mexico:
The bus got the group down and back safely with no mechanical issues. The group was able to accomplish several tasks at the orchard in Rio Chico while others performed mechanical duties on several vehicles. The trip to Babicora went very smoothly. The daycamp and ladies ministry was very well recived in Babicora. Another well was successfully drilled in El Burro. It flow tested at about 6-7 gallons per minute and should produce what's needed for the greenhouse. We also repaired some other problems at another well site. The other site that we had hoped to drill at this spring will have to wait until this fall. Please pray that this trip will come together and continue to pray for Alex and his family as they minister to the needs of the village.
Students:
Our boys from this past year, Kyle and Matthew, graduated in August. Ben, who was helping us advise, got engaged and will be leaving in December. Matthew went home, but we are excited to announce that Kyle will be staying on as Marketing Manager and will also be helping us advise our new group of boys on Tuesday nights. We have a second year; Jacob Means from Towanda, KS and two first years; Isaac Buck from New Paris, IN and Tucker Smith from Shinglehouse, PA. We just had our first meeting September 13th and really enjoyed our time with them. Looking forward to growing in the Lord together!
Family Updates:
We now have 10 grandchildren! Tirzah Filomena Rega was born September 4, 2022, in the car! Mom and baby are well. Zack and Lindsey's wedding in May was well-attended with nearly 300+ people! They are doing very well and live in Corry. James, the last of our six, graduated from high school in May. He works full-time for Carpenter's Auto.
Thank you for your continued prayers and financial support. We could not serve here without all of you. We feel so blessed to have your partnership in the work here and we pray God will continue to bless each of you.
In His Service,
Mark, Shari, and James Brian
Prayer Requests
Spiritual growth of students and staff
Fall Mexico well drilling trip
Finances for mobile home installation
Praises
Completion of new bunkhouse
Volunteers and the work accomplished
Arrival of Tirzah
All gifts are tax deductible and can be made out to MMRM, designated for us, and sent to the Ranch at 101 Rodeo Drive, Spring Creek, PA 16436 or online using the 'donate' button below.