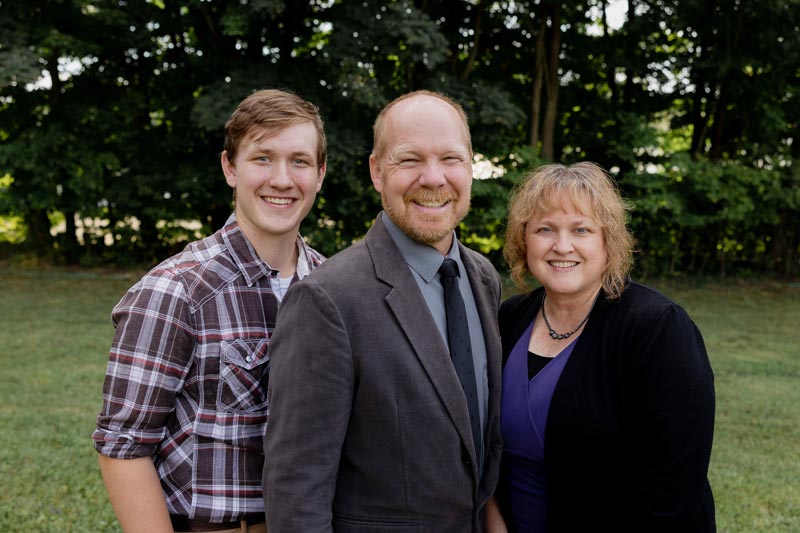 Mark and Shari Carpenter
Mark and Shari came on staff in 2001. Mark is the Director of Operations. Mark heads up all construction and maintenance, in addition to teaching the School Of Discipleship class on Servant Leadership. Shari enjoys assisting in the Buckboard store and hosting in their home. God has blessed them with six adult children (five of them married), and 10 beautiful grandchildren.
Carpenter Connection
2023, Edition 1
Dear Friends and Family,
We hope you all had a Merry Christmas and a Happy New Year! December was very busy for us between Mexico and family, so we apologize for not getting out our usual Christmas letter. As we reflect on 2022, we are reminded of God's continued faithfulness to us as a family and the ministry here at Miracle Mountain Ranch. Dr. Dale's commital service, which was held at the Ranch a few months ago, was a vivid reminder of the many people God has used in this ministry. May we all purpose to be found faithful to what God has called us to here on earth. No matter where we find ourselves in service to Him, we must be faithful.
"Whatsoever thy hand findeth to do, do it with thy might; for there is no work, nor device, nor knowledge, nor wisdom, in the grave, wither thou goest." Ecclesiastes 9:10 (KJV)
Operations
The mild weather this past fall and early winter have allowed road building and sitework for a doublewide and singlewide to be installed south of the r.v. park. We have been working to get the utilities completed to these two units so they can be occupied soon. The abrupt end to our mild winter and severe cold snap prior to Christmas caused three different water freezeups. Two in buildings causing major damage and one in our water distribution system causing some complications for water supply to six staff homes. Praise the Lord all causes of leaks have been resolved and repairs are in progress!
We have been blessed to have two first year students choose operations as their major focus of study. Kenton and Tucker have joined Daniel, who is our second year in operations. We are so grateful for these young men and the many adult volunteers we had this fall. Finances have been raised to remodel the Cattlemens Hotel bunkhouse; adding bathrooms to the three downstairs rooms and remodeling the upstairs. Please pray as we continue to prioritize all of the operation and maintenance projects here at MMR.
Mexico
In December, we were blessed to be able to travel to Mexico to drill another successful well in the remote town of Bichachique. This little village is a 45 minute drive from Babicora. This is the final well needed in this mountainous region where Pastor Alex's church is. The village families butchered a cow and prepared an incredible meal cooked over a fire. They had slaughtered and prepared this feast for us prior to the well being successfully completed. What incredible Faith! It has been so rewarding to participate in God meeting the physical need of water. As a result, the church was given another avenue of outreach.
The church in Babicora was given a plot of land with a small house on it. Pastor Alex shared the need for guest housing in the village and we are looking to help with this project on our Easter trip.
While on this past trip, we met a Christian family that has a lumber mill which purchases the timber many of the village people harvest. They have a need for a well at a small ranch where they desire to provide a greenhouse for missionaries to be able to grow plants and vegetables. They are willing to partner with us for other outreach in villages through the avenue of water well drilling. Please pray we are obedient to God's leading in these endeavors.
We are possibly returning in February to drill in San Jose' Babicora and pursue what other opportunities there are with this new connection.
Students
Mark is currently teaching the Servant Leadership class until the end of January. All first and second years attend this class. We have had a great fall with our group of boys. They have chosen their majors for the rest of the year. Jacob chose programming, Isaac is in the barn and Tucker is working in operations. Kyle, our staff intern, is doing a great job in media.
Family Updates
Mark, Joshua, and Emily flew to El Paso at the beginning of December and traveled into Mexico to help with another well. Mark was very excited to have some of his children along this time. December was packed with a lot of family time. Shari was able to travel to Indiana to visit Christian, Katie, and Harper for a few days and bring our Florida girls (Alissa and her four girls) back for a prolonged Christmas stay. They sure enjoyed the snow! We also enjoyed Kraynaks and Asbury Woods. What a blessing!
Thank you for your continued prayers and financial support. We could not serve here without all of you. We feel so blessed to have your partnership in the work here and we pray God will continue to bless each of you.
In His Service,
Mark, Shari, and James Brian
Prayer Requests
Spiritual growth of students and staff
February and April Mexico trips
Completion of new staff housing
Praises
Water leaks fixed
Completion of another well in Mexico in December
Mild weather for work projects
All gifts are tax deductible and can be made out to MMRM, designated for us, and sent to the Ranch at 101 Rodeo Drive, Spring Creek, PA 16436 or online using the 'donate' button below.