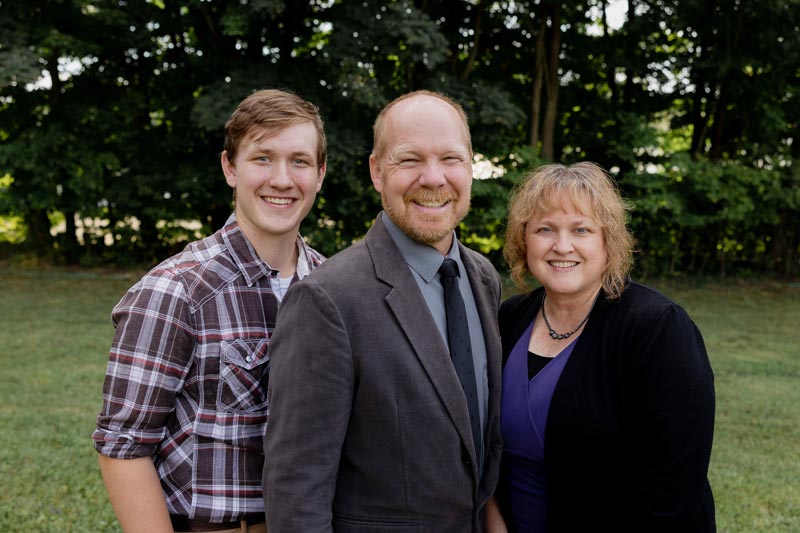 Mark and Shari Carpenter
Mark and Shari came on staff in 2001. Mark is the Director of Operations. Mark heads up all construction and maintenance, in addition to teaching the School Of Discipleship class on Servant Leadership. Shari enjoys assisting in the Buckboard store and hosting in their home. God has blessed them with six adult children (five of them married), and 10 beautiful grandchildren.
Carpenter Connection
2023, Edition 2
Dear Friends and Family,
Can't believe it's June and camp season is upon us! The ranch had very successful spring retreats that were well attended. There were many opportunities to minister and encourage one another. Our annual Open House was a great success with over 800 people in attendance. We just finished up a week long camp for a Christian online school called The Potter's School. There were around 100 attending, including a few international students from Europe and Asia. Our summer camps are almost full with over 1,150 registered. Staff training started June 11th and will finish on the 20th. Please pray for our summer staff as they seek to minister to the kids, and pray for the ranchers, that God will prepare their hearts to hear His truth and that their lives will be touched. Our summer staff theme is "Walk in the Light"; taken from 1 John 1:5-10.
Operations
Construction has been continuing on the Cattlemans project since winter. It has been totally remodeled with sinks, showers, and toilets for all six rooms, a new porch and roof. Many volunteers, paid crews, and staff have been bringing this project to completion for use this camp season. What a blessing this facility will be for summer camp and retreats. We also have been continuing work on the double wide and single wide housing units; working towards them being usable by late summer. We have also seeded down a 30 acre field that we have a lease on. We are looking forward to it supplementing our hay crop. This will help us to rework some existing hay fields at the ranch. We have full volunteer crews this summer, both adults and youth. Most weeks we have close to 8 young men with several of them staying 7-8 weeks. Please pray for their spiritual growth as we have the privilage of daily devotions and discipleship during their work day. We are very blessed to have three S.O.D. students in the operations department for this summer. They have been with us since early winter and are doing a great job.
Mexico
We had the blessing of making a trip in February to drill a well in San Jose Barbicora. The plan for this well is to provide water for a greenhouse that will supply plants for nearby communities and employment for local people. Please pray as work proceeds on the greenhouse. This well was payed for by the Ortega's, a local business family, that prayerfully will be partnering with us on future wells. Pastor Alex has been doing discipleship in other local villages where we hope to drill future wells in a continued partnership with Taramara Missions and the Ortega family.
During our annual Easter mission trip, we were able to also drill a well in Rio Chico. This well will supply drinking water for Taramara Missions at their outpost/camp/farm. The group also worked on a construction project and greenhouse work. We then traveled into Baricora where Pastor Alex's church is. While there, childrens daycamp and womens ministry outreach took place. We also demolished a house, dug a septic tank, and started reconstruction of a guest home.
Students
The students finished up their classes, so we took our boys out to celebrate. We enjoyed having them as part of our family this year. Kyle, who is in the media department, was a great help to us this year with mentoring and grading. This summer, Jacob will help in programming, Isaac will be a camp counselor, and Tucker will be in operations with Mark.
Family Updates
Zack and Lindsey are expecting a baby boy in October! This will be our 11th grandchild! We are super excited! Right now, the grand girls tip the scale with a whopping 8! We moved my mom from the Ranch to Jacob and Ashley's basement apartment last week. She has so much more room and is able to have some of her mother's furniture out of storage now, so she is ecstatic! James started a new job subcontracting with a company out of Buffalo. He usually travels four days out of the week and has a three-day weekend. Not too bad for a guy his age. We were able to get away with Zack and Lindsey and Jacob and Ashley's crew for a hike on Mother's Day. It was a gorgeous day! Timothy and Alissa are on their way here from Florida as I type! Their oldest, Alissa Leighanna, will go to camp this week with Jacob and Ashley's daughter, Chloe. We also are looking forward to visiting Christian and Katelyn in Indiana mid-July. Their little Harper also just had her preschool pictures done so, of course, we had to include one.
Thank you for your continued prayers and financial support. We could not serve here without all of you. We feel so blessed to have your partnership in the work here and we pray God will continue to bless each of you.
In His Service,
Mark, Shari, and James Brian
Prayer Requests
Salvation and discipleship opportunities this summer
Growth of second cutting hay crop
Healthy pregnancy for Lindsey
Praises
Ministry opportunities and another successful well in Mexico
Full summer camp
Summer staff and volunteer positions filled
First cutting hay crop in the barn
Another grandchild
All gifts are tax deductible and can be made out to MMRM, designated for us, and sent to the Ranch at 101 Rodeo Drive, Spring Creek, PA 16436 or online using the 'donate' button below.