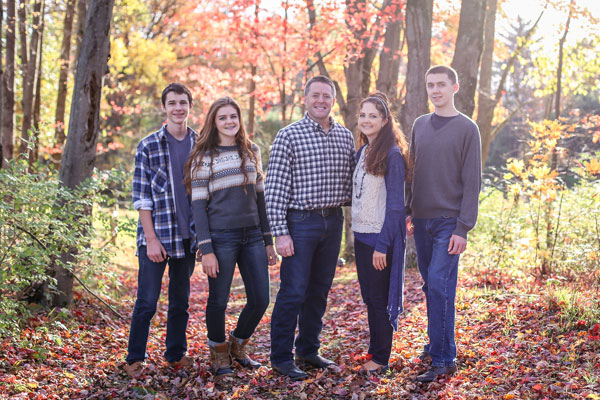 Mark and Jen Brenner
Mark is the Chief Financial Officer and teaches Christian Ethics classes for the School of Discipleship. He is currently pursuing a Bachelors Degree in Religion from Liberty University. Jen volunteers in our landscaping department. Mark and Jen are both graduates of the School of Discipleship.
Brenner News
January 2020
New Year's greetings to our loved family and friends!
New Year's Resolution #1:
Write and send out a newsletter. This stage of life at the Brenner house seems to fly by with change happening at an ever-increasing rate. I have started to write a newsletter several times only to have it be obsolete before I could get it done, but not today!!
Family Member Update
Michael is starting the second semester of his junior year at Edinboro University and is on track to complete a bachelor's of science in biology in the spring of 2021. He is doing very well keeping up his grades and is looking at physician assistant (PA) schools to apply to for the fall of 2021. Meanwhile, he holds a part-time job at Wal-Mart, in the electronics department, to get extra spending money, and he is trying to enroll in an EMT course this spring / summer.
Michael is also leading a Bible study at college and is a regular at the Meadville Area Young Adults (MAYA), a young adults Christian fellowship / Bible Study group. Christian ministry has always been a passion and a long-term goal for Michael. He spent the last summer in China, assisting missionaries with a church plant in the city of Changchun.
Rachel is starting the second semester of her sophomore year at Mercyhurst University North East, and will graduate this spring with an associate's degree in business with an emphasis in sports management. She has a 4.0 GPA, works as a tutor, and is an excellent student. She has attended the last two years on a volleyball scholarship and her team has enjoyed success, winning districts both years, and earning a bid to the NJCAA National Tournament both years as well.
This fall, Rachel received a concussion, taking an accidental volleyball to the head during warm ups. A month later, and after many hospital trips, she was diagnosed with post-concussion syndrome. This was a very tough time, as she struggled with the symptoms of numbness in her limbs, dizziness, and a variety of other unpleasant things. We are thankful to that God has brought her healing, to the point where there are very little symptoms.
Meanwhile, the extra time she has spent in the athletic trainer's room, over the last two years, has awakened a passion for pursuing athletic training. Rachel will be attending Mercyhurst University main campus for the next two years, as she completes a bachelor's degree in athletic training.
Rachel also loves to travel and do mission work. She spent last summer, traveling with a doctor and a missions team, to remote Indian villages in the mountains of Mexico.
Stephen graduated from 12th grade this spring and is currently starting the second semester of his freshman year with Liberty University Online. He is pursuing a degree in criminal justice and would like to work in law enforcement as a PA State Trooper and possibly in the US Marshals Service. He reads everything he can get his hands on, and is a collector of knives and guns. Stephen is currently working with me on some construction projects and on the full time job of keeping his 1997 Jeep Wrangler running. (Smiling)
Jen and I are both enjoying this season of life with our kids, and we are happy that they are still in the house. Michael and Rachel are commuting to college, so we get to see them every day. Stephen does his college from our kitchen table and I am enjoying the time spent with him.
Jen is our homemaker and hospitality organizer. She helps keep us all moving and cared for. She loves Bible study, crafts, cooking, and good exercise. When the weather permits, she might be found cross-country skiing in the fields around our house. We also love to walk the back roads nearby and try to do that some every day.
MMR Update
We have now been working at MMR for over 25 years, and it has been a blessing. I am working more and more in the operations area, assisting Mark Carpenter with various MMR projects. Currently we have three construction projects that we are moving forward with. We are renovating the basement of the house next to where we live, at the bottom of the hill, into a two-bedroom apartment for Adam and Chelsea Marshall. MMR also bought a doublewide house that will be moved to the ranch in the coming weeks. These two housing projects will be of great help, getting our newly married couples into permanent housing. We are also raising money for a new winterized bunkhouse with bathrooms. As these projects move forward, I will be very involved.
MMR is growing and making a positive spiritual impact in our community. Hundreds of kids were scholarshiped to camp in 2019, and the transforming Gospel of Christ is being preached. Thank you for your love and support. We appreciate you! Happy New Year!!
Love,
Mark, Jen, Michael, Rachel, and Stephen
Prayer Requests
Pray for the MMR staff, that they will be effective in ministering to the spiritual needs of the community.
Pray for our children as they balance school, careers, and continue to grow in their journey with God.
Pray for our health needs, especially Rachel's continued post-concussion syndrome recovery. Jen is also getting PT for soreness in her left shoulder.
Pray for the hearts of the kids who are even now signing up for a week of summer camp in 2020. We are preparing for a great opportunity to share the Gospel of Christ.
Ps. New Year's Resolution # 1 complete!!