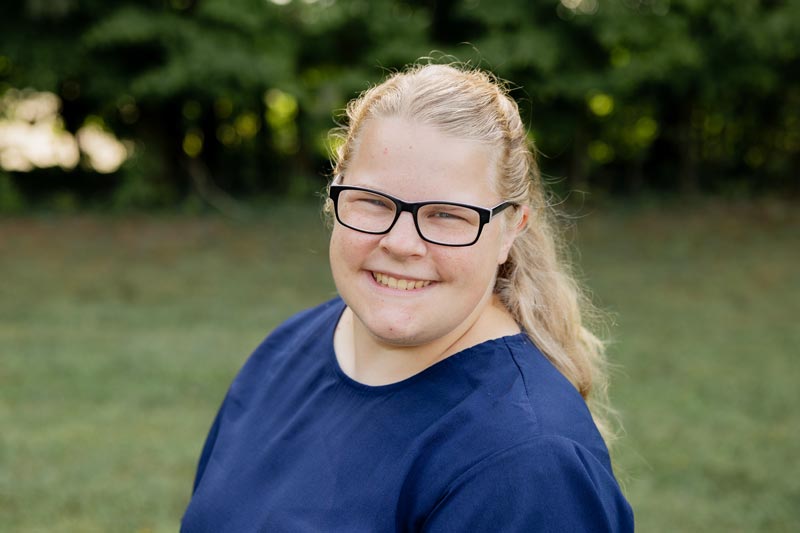 Melissa Beckman
Melissa graduated from the School of Discipleship in August 2022 as a 1st year student. She then came on staff in the Guest Service department in housekeeping where she helps clean the facilities along with preparing for retreats and events that come in. She will also be mentoring and leading students in chores throughout the year and working with volunteers during the summer.
Melissa's Newsletter
Fall 2023
Dear Family and Friends,
Where did the Summer go? It was a busy time and yet amazing to see what God did throughout the Summer! 
We had over 1,200 young people come for Summer camp. Throughout the Summer I heard many testimonies of how, in their time here, God worked in their hearts and the encouragement they received! Many said that their walk with God grew and they learned more about who He is, and many put their trust in Christ! 
 I had the privilege of working with many volunteers this past Summer! We are blessed at Miracle Mountain Ranch to have many people volunteer to come and give of their time to help out during the Summer. They are a vital part of keeping things going at the Ranch during Summer camps and I enjoy getting to know them and working alongside them! 
With working at a camp during the warm Summer months come many challenges. I found God reminding me of who He is and that although I may not be able to do all that I think I should, He gives grace! He also reminded me over and over that when I spend time in His word, the Bible, I can find refreshment, peace, and contentment in Him! 
The Bible study that I got to share during one of the weeks of summer with the volunteer gals was a neat opportunity to share what the Bible says about our Identity in Christ and how many things in our lives are affected by where we find our identity. 
As we get into the new school year for the School of Discipleship, and as new students are arriving,  I am excited and think of the way that God works through us to have such a community here where we can do life together and grow in the knowledge of God and His word. At times I feel inadequate to share God's truth with the students coming in but then I think of the love that God has for us and the grace He extends to us! He took men who fished for fish and made them fishermen for men, called to share Christ with others! Praise the Lord for this, in how He works through us! 
We have 27 students this year, including nine second year students. I am excited to see how God will work in the students' lives as they grow in their servant leadership skills along with many other things. I get to co-advise with the Snyder family again and we have a first year student and a second year student this year. I am excited to get to know them!
Prayer Requests
Pray for the new students and for the new school year and their families. 

Pray for the staff as we start another year that we may be used by God to encourage these young men and women! 

Pray for discipline in spending time in God's word each day so that I    may be ready to share the gospel       
Praise Report 
The Summer went well over all with forming a routine and working with the many volunteers!

For the 81 young people who put their trust in Christ this past summer.

For the love God has for us even when we mess up!

For all the ways God continues to provide! 
I could go on and on with praises! I am thankful for all God has done and your support of my ministry work here! Thank you so much for the many prayers I know are prayed! Also thank you for your financial support that helps me continue to do the things I do here! I am blessed by each of you! 
God bless you all!
In Christ, 
    Melissa Beckman       
At Miracle Mountain Ranch as staff you are considered a missionary and raise your own support. If you feel like God is calling you to give, you can give online at the website mmrm.org by credit card or electronic withdrawal under the Donate tab or send a check in the mail written to MMR with my name in the memo section. The address is, 101 Rodeo Dr. Spring Creek, PA 16436. Your gifts are all tax deductible.